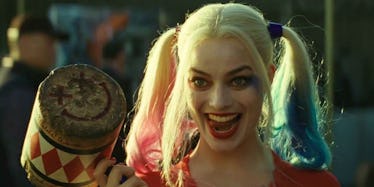 This 'Suicide Squad' Fan Just Posted The Most Incredible Harley Quinn Look
DC Comics
Comic book fans, get ready.
On August 5, DC Comics' "Suicide Squad" will finally hit theaters after months of anticipation.
While the cast features stars like Will Smith and Cara Delevingne, the show stealer is already Margot Robbie as Harley Quinn, the mentally unhinged girlfriend of the Joker.
Although Harley (that's Dr. Harleen Quinzel, to you) might have started as a one-off role that happened to resonate with readers, over the years, she's become something of a bad girl icon.
Way back at Halloween time, we showed you how to get the Harley Quinn look for yourself.
But, as the movie premiere edges closer, fans are showing off their own takes on Harley's dramatic new look. With her rainbow-tinged hair and heart-stamp tattoo, the villain supreme is like a sorority girl on a drug-fueled bender.
This is what Coachella-gone-bad looks like, really.
In a post to the Reddit forum Makeup Addiction, rainbow-haired superfan Lila Regenbogen showed off her own impressive take on Harley's look.
It certainly helps that Lila already shares the feline features of Margot Robbie, but her makeup makes the look next level.
Take a look for yourself:
This is Lila, who describes herself as "just your unfriendly neighborhood rainbow hair girl."
On brand for a supervillain fan, no?
Lila is no stranger to elaborate beauty looks.
She loves making a flashy statement.
In anticipation of "Suicide Squad," she amped up her look.
Pretty close, right?
Lila told Reddit she primarily used drugstore makeup for the look, adding on Glamour Doll Eyes shadow for the dramatic colors around the eyes.
Puddin', you win this round of comic book fandom.
Margot Robbie couldn't do better if she tried.
Squad out.