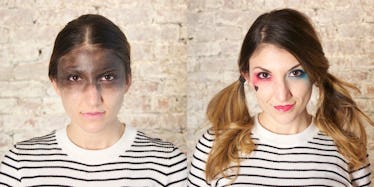 Be Your Fav Pop Culture Character Using Just Makeup, No Outfit Required
Halloween is an expensive holiday. Popular costumes like sexy Catwoman, Ninja Turtle and Robin can cost upwards of $50 for a couple scraps of elastic and a few props. Add in the cost of your Uber to and from the party, (not to mention the drinks) and you've just danced away half your paycheck.
Hey, you're young, you work hard and you deserve to put on that costume and make out with a hunky Minion or two. But if you're looking for a way to pinch a few pennies this holiday without sacrificing the fun, look no further than your face.
There are tons of DIY Halloween makeup looks out there to take your costume to the next level, without spending over $100 at a salon.
The most popular costumes this year are taken from pop culture with Harley Quinn and Elsa leading the costume game in the US, according to Influenster, the product reviews and discovery platform.
In an effort to channel our inner heroines, we teamed up with makeup artist Samantha Jozic to create makeup looks for reigning queens of cool Harley Quinn, Elsa and "Mad Max" badass Furiosa.
Check out these super easy DIYs below, and may the cat eye flick odds be ever in your favor.
Channel Harley Quinn now, before Margot Robbie one-ups you.
With the upcoming movie "Suicide Squad" set to release in 2016, this quirky, ruthless and mentally unstable comic book queen has risen in popularity.
For this look, we took more of a cinematic approach to Quinn, using Margot Robbie's look in the upcoming movie as inspiration.
What you'll need:
Blue and red loose glitter Black eyeliner Mascara Pink lipstick
First, prime the eyelids to ensure the loose glitter will stick. Then, pat blue pigment (Jozic used colors from MAC) on the left eyelid and sweep downward to create a messy brush of color. Do the same thing on the right side with the pink pigment.
Next, create a cat eye flick using a black gel liner or felt tip pen. Line the bottom eyelid with black liner as well. After mascara is applied, use a black gel liner or pencil to create a small heart on the right side of the cheek just below the eye.
A bit of pink lipstick and cute pigtails are all you need to rock this look.
Slay on the dancefloor with an ice queen look to melt the coldest heart.
As Jozic perfectly puts it, "Elsa is a bad bitch, so her makeup is going to be perfect." While this Disney princess may seem naive, you should never underestimate a woman who can pull off white gloves with daywear.
What you'll need:
Lavender, coral and dark purple eyeshadow shades Black eyeliner Rose or pink blush Blue eyeshadow Silver glitter White face paint
Prime the eyes and pat a lavender or light purple eyeshadow on the center of the eyelids. Place a deep purple shade on the corners of the eyelids in a v shape and blend out a coral shade on the inner corners and creases. Finish off the look with eyeliner along the tops and bottoms of the eyes.
Place a dusty rose blush on the cheeks to simulate a natural flush you would get in cold weather. Then, create an icy effect by taking a large powder brush and sweeping a light blue eyeshadow all across the forehead, framing the eyes. After, sweep a loose silver glitter over the blue.
For an added touch, take white face paint and create small stars with an angled brow brush all along the forehead to simulate snowflakes.
Finish off with pink lips and a pretty swept-back braid. You're ready to reign over the party.
For a don't f*ck with me look to kill, Furiosa will do the trick.
Technically, to create this look you would need to cut off your arm, steal a freight truck and smuggle some pregnant teens out of the city.
But in reality, all you really need to complete this look is a few simple strokes of black. We used face paint, not grease.
What you'll need:
Black face paint Nude lipstick concealer
Take a stiff face brush and blot black face paint in continuous motions all along your face from the top of the nose upwards. Slick your hair back and, if possible, tap the paint into the hairline for a continuous flow of color.
For the lips, use a beige shade of lipstick close to your skin shade (Jozic used MAC's Creme D'Nude) and pat some concealer on top to create a pale, flesh-like effect.
No need for Charlize Theron's buzz cut, but try putting your hair in a tight ponytail for a sleek look. If someone at the party needs to ask who you are, punch him or her in the face for me.