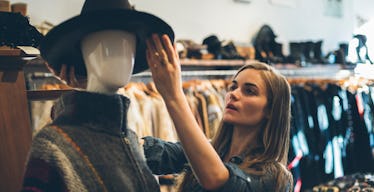 31 Struggles Single Girls Go Through During The Holiday Season
Stocksy
So you're single. Party of one. Standing room only. Nightly glasses of wine large enough for you to drown your sorrows in. By now you've perfected the art of movie-watching alone and texting yourself with wonderful plans.
You thought you made it through cuffing season, but now it's a whole new battle. Welcome to the holiday season of loneliness. While other people are stressing about whose family they have to spend Thanksgiving with, you already know where you'll be going.
While couples are teasing each other in the snow, you're throwing up in it.
There's no one around to jingle your balls. There's no one around to be your ho ho ho. There isn't even someone to laugh at those lame holiday puns. You have to rely solely on yourself and we all know you're not exactly happy, or in the festive spirit for that matter.
Because being single during the holiday season is a mixed bag of relief (Yay! One fewer family gathering to attend!) and misery (Boo! No one to attend your family gathering with you!), kind of like the contents of your stocking stuffers (Really, Mom? Razors? Don't you know we're feeling super fragile right now?).
Although it can feel like you're extremely alone right now (that couple's photos of ice skating together are making you seriously consider deleting your Facebook account), we're here to remind you that you aren't (so put down the "Manage Your Account" tab).
Single gals everywhere are all feeling this same way. But, hey, Mary didn't need a man and neither do you!
Here are the 31 feelings of every single girl during the holiday season:
1. The only lap you're sitting on is Santa's.
2. You don't have a date to save you during excruciating dinner conversations.
3. The nicest gift you're receiving is from your dad, and it will most likely go toward rent.
4. You can wear whatever you want to bed when it's cold, not some flimsy little lingerie thingy. (Sigh, those lacy booty shorts you treated yourself to really do go under appreciated.)
5. You spend New Year's Day regretting hooking up with your ex-boyfriend the night before. So you erase those memories by hooking-up with mozzarella cheese and tomato sauce.
6. Your version of sloppy sex is guzzling down eggnog.
7. You are the drunkest person at every holiday party. You still have trouble figuring out if this is the cause or effect of having no one to take you home.
8. You find comfort in not having to spend additional money on presents for your boyfriend... and in Chinese food on Christmas.
9. You watch "Love Actually" over and over again. Not even because you want to, but because this is the sole holiday movie marketed for people of all relationship statuses.
What does it say about you that your holiday movie spirit animal is the creep who's obsessed with Keira Knightley and the only one alone by the end of the whole movie?
10. Not getting one holiday gift that comes with a card or wrapping paper.
11. You don't have to meet the parents, but you do have to meet your parents' lowered expectations for you. Don't bring your laundry home this year.
12. Picking out a great gift for the men in your life won't get you laid afterwards. You're lucky if your little brother even gives you a hug.
13. You can eat all the holiday food and cookies and don't need to worry about gaining weight. This realization makes you both happy and sad at the same time. Go ahead, eat your feelings. No one cares.
14. The man you go home to is one of the many Tim Allen Christmas movies. You like him, except you don't trust a man with two first names.
15. You're perfectly content not subjecting a potential lifetime partner to your family's Thanksgiving. Of course, this means you have to face it all on your own.
16. You don't even have an easy way out of partaking in your family time. It's not like you have to visit his parents or spend the holidays at his family's home.
Nope, like every other single girl out there wishing she had a baller boyf to bankroll her new bag, you're stuck.
17. You're cuddling with N*Sync holiday albums. This I promise you.
18. You receive more socks than jewelry.
19. You're sick of all the holiday-themed madness and cheer everywhere. You can't even watch religion-neutral porn -- every actor is wearing a stupid Santa hat while orgasming.
20. You're more afraid of mistletoe than camel toe.
21. Wrapping yourself in piles of blankets (instead of splurging on heat) makes you feel like The Little Spoon all day long.
22. You take no-shave November very seriously. Your bare legs haven't seen daylight in so long, you're sending them a postcard.
23. Your sh*tty Tinder date is over an hour late because of all the holiday traffic. In the time it takes for him to finally arrive, you've swiped yourself exhausted.
24. You can return everything except your single relationship status.
25. Even the mail is insulting. Friends' holiday cards are their remote way of reminding you that you're still left out of marital bliss... and money to spend on a professional photographer.
26. While everyone else is busy vacationing with a lover, you're vacationing to Hawaii with "Forgetting Sarah Marshall" on Netflix.
27. The sparks flying and electricity in the air is the result of your expired Christmas lights -- not smooching with a man.
28. You're settling down to a hunk of appetizer cheese and crackers, instead of the flesh and bone kind.
29. You have to live with all your bad gifts without receipts because you have no one else to give them to.
30. Nude photos now come with a gift exchange.
31. Size single is all that fits me right now.