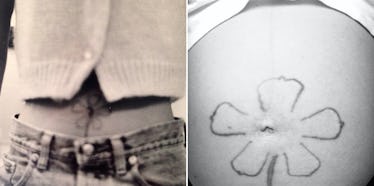 Mom Posts Side-By-Side Pics Of Tattoo While Pregnant: 'Think Before You Ink'
Getting a tattoo is a lifetime commitment.
For the average person, it's probably the most you'll ever debate a life decision. Getting married? Just wing it, you'll be fine. Getting inked? Really muse over this one.
Flower tattoos are a very distinct style choice, and tattoo removal is expensive.
For one Redditor's wife, the decision to get inked at age 16 has led to some rather funny consequences. Now, 30 weeks pregnant with her first child, the stomach tattoo has expanded like a bad copy spit out of a faulty copy machine.
User A_supertramp uploaded the photo to /r/Pics, joking that the 39-year-old woman was thinking of calling the diptych, "Think Before You Ink."
He added,
This [isn't] the first time it's been regretted. Just the best representation of it so far.
Of course, the internet community had plenty to say about the photos. Some appreciated the fact that tattoo designs change with our bodies.
Redditor Occasionally_funny wrote,
I actually kind of love it... yes the original tat is terrible.... but it's cute that you can see the growth of your baby on the flower. I think it's beautiful.
A sagging or stretched-out piece isn't ugly. It's just a reminder of who you were at a different time in your life. At one point, this woman happened to be an idiot teenager with a preference for scribbled tattoo flowers and terrible placement.
A few people shared their own experiences with stretched-out tattoos, including this particular gem from Sid6po1nt7, who wrote,
Had a friend who got a sun on her stomach. When she was in her 3rd trimester it looked like it exploded & now it appears to be collapsing on itself.
Cute! Who doesn't want a tattoo that slowly but surely becomes an unintelligible blob of ink covering half your body?
Interestingly, though, plenty of women opt to get henna tattoos (albeit the temporary kind) during their final trimester. Using the dye, mamas-to-be decorate their bumps with intricate line work. At that point, your stomach is almost a fashion accessory. Why not make use of it?
In any case, make sure you've thought carefully before allowing somebody to permanently tattoo your body. You'll thank me later.
Citations: My wife got a tattoo of a flower on her stomach when she was 16. Now she's 39 years old, and we are 30 weeks pregnant with our first child. She has titled this "Think Before You Ink." (Reddit)