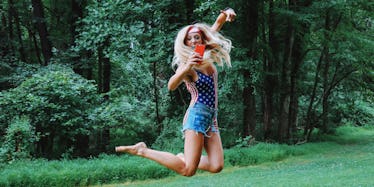 5 Trendy Shorts That Won't Ride Up Your Ass This Festival Season
Taylor Kampa
If I could round up every pair of high-waisted denim shorts in the world and burn them in a pit of blazing flames, I would.
Virtually every girl I've ever seen at music festivals refuses to wear shorts that don't completely cover her belly button and it gives me anxiety. How does she sit down without the inseam completely riding up her nether regions for the most intense, painful permanent wedgie and camel toe?
According to data compiled by style community Polyvore, high-waisted options are the third most searched shorts on the site. This data baffles me. Festivals are all day affairs that call for sitting cross-legged under a teepee eating tons of fried food washed down with cheap beer. Why would any self-respecting woman want to stuff her midsection into tiny, unforgiving high-waisted shorts with zero elasticity?
This year, while you're head bobbing to Jack U at Coachella, do us all a favor and wear shorts that fasten at your hips, instead of your upper vagina. There are tons of comfortable and trendy options out there that don't include showing the world your hoo-ha as you kneel down.
When Ellie Goulding sees how comfy your sequin shorts are at Lollapalooza, she'll be dying to ask you for style advice.
It's time to channel your inner Kesha. Since sequin shorts are dazzling on their own, you can get away with buying a roomy, elastic waist pair. No one will notice the extra crotch room, but you certainly will. Get comfy on that sandy ground and know when your girlfriends are getting up every 5 minutes to move around, you can stay put.
Try: Festival Mini Boxer Shorts, Story Of Lola, $28
When HAIM (finally) pulls you onstage at the Governors Ball, mid-waisted shorts will keep the camel toe at bay.
So, you like the way high-waisted shorts flatter your midsection but don't love the sensation of denim shoved up your hind quarters. I feel the same way, which is why I love investing in mid-waisted shorts that hit below my belly button, but above my hip bone for a flattering and comfortable feel.
I can run around all day in these things and can pair them with anything from tank tops to hoodies.
Try: Midi Short, American Eagle, $50
Burning Man goers can rest easy knowing pop-pom shorts will keep their bums cool in scorching desert temps.
The only thing worse than swamp ass is wedgie swamp ass. Can you imagine doing the running man in 90-degree heat wearing high-waisted shorts? Throw those evil beings out in favor of adorable, thin pom-pom shorts. The drawstring will ensure they won't ride up and the cotton fabric will keep everything copacetic below the waist.
Try: Smocked Waist Pom Pom Soft Shorts, LA Hearts, $30
When Miguel blesses you with his sweet vocals at Bonnaroo, overall shorts will make sure you'll only be paying attention to him.
Overalls are not just for the playground anymore. Because most overalls are outfitted with adjustable straps, you can keep the waistband at the hips to cancel out any unfortunate camel toe. These little numbers are super cute with crop tops, the ultimate festival staple. The concealed tummy area will also come in handy after one too many IPAs and magical pastries.
Try: Bib Overall Shorts, H&M, $15
When you're fist pumping to The Chainsmokers at Coachella, crochet shorts will keep it breezy down under.
Crochet is a great option for festival season. The lightweight, breathable fabric makes for a super comfortable downtown situation. Shorts in this fabric are not only breezy, but also super on trend. Pair your colorful shorts with a fun off the shoulder top and get down with A$AP Rocky in comfort.
Try: Tiered Crochet Shorts, Charlotte Russe, $23
This festival season, branch out from the crotch-hugging shorts of yesteryear. If you need any help, I'll be the girl at Coachella not adjusting herself all day.