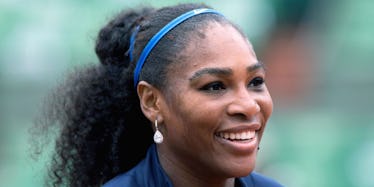 Serena Williams Just Gave The Best Advice For Anyone With Body Image Issues
REX/Shutterstock
When you're a one-of-a-kind champion athlete, half of arguably the strongest sibling duo in professional sports and a budding entrepreneur, can you still hear the haters? If you're Serena Williams, apparently not.
In a new feature interview for the September issue of SELF, Williams talks all things Olympics and success. On the edge of Olympian success at Rio, the tennis star is taking a moment to appreciate how far she's come.
She tells SELF so much of her confidence is the result of her father, who also happened to be her coach. He not only moved his family to Compton so they'd learn resilience, but also used to actually invite neighborhood kids to heckle his daughters Serena and Venus while they played.
The result, she explains, is a sense of poise that can't be shaken.
Can you imagine what it's like to be a catcaller when Williams walks by? If they're smart, they probably quake with fear when she's on the street. Those arm muscles don't lie and she definitely runs faster than construction workers everywhere.
When it comes to the many media outlets and public figures who have criticized Williams' ultra-muscular physique over the years, speaking about manliness and even prominent nipples, the tennis star doesn't have time for them.
In fact, her advice will ring true with any woman who's ever been attacked for the way she looks.
Williams says,
I love my body, and I would never change anything about it… I'm not asking you to like my body. I'm just asking you to let me be me. Because I'm going to influence a girl who does look like me and I want her to feel good about herself.
All praise-hand emojis over here, especially to support body confidence. If it's good enough for one of the best tennis players of all time (and Beyoncé), it's good enough for me.
Citations: Wonder Woman, Serena Williams (SELF)