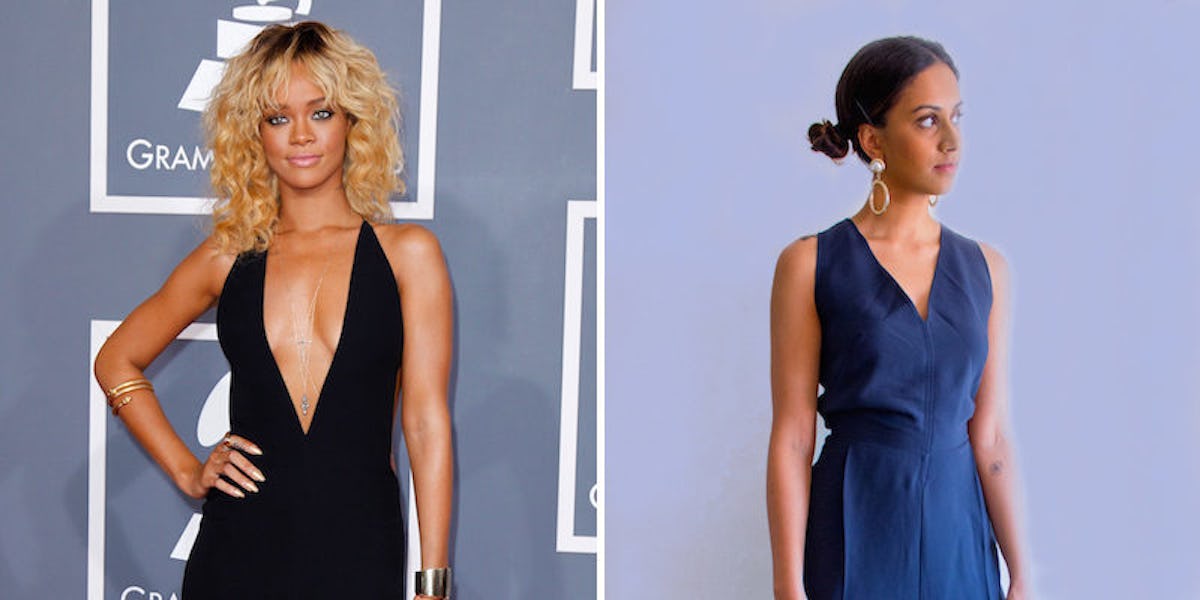 How To Dress Like Rihanna If You Don't Have A High-Fashion Budget
Rihanna gives me life. I am utterly obsessed with her. I don her perfume. I strategically used her shoulder tattoo as a model for my very own shoulder tattoo. There's even this boy who calls me @BadGalRiri, which is perhaps the most flattering compliment ever to have been bestowed upon me.
Who can argue with me here? Her music is incredible (I'm listening to "Anti" on loop as we speak), her confidence is enviable and her style game is FIERCE.
Rihanna is not just a person. She's a state of mind, the state of mind being "badass." She's the one female celebrity who can wear anything -- and I mean anything -- and pull it off flawlessly. 
She empowers other women by wearing whatever the hell she wants, even if it's outlandish or unflattering or controversial. Constantly pushing the boundaries, she isn't afraid to take fashion risks. She stirs up conversation. Rihanna unexpectedly mixes super-soft pieces with more casual, even athletic pieces. Sporty-chic is kind of Rihanna's trademark.
I've always wanted to dress like her, but I don't have access to a high-fashion budget. But with the help of two my friends' closets (thanks Sam and Celine! You the real MVPs), I was able to recreate five of Rihanna's most iconic looks and make them my own. I have faith that you, too, can look like Riri.
The two-piece, for when you're feeling lazy:
Ah, the two-piece.
Rihanna rocked this all-black two-piece with embellishments, so I threw on a vintage J.Crew two-piece that Celine bought from a second-hand store. I topped the look off with a high bun so the outfit could speak for itself, and kept my makeup simple, too.
Rihanna loves wearing hoops, so I wore my $7 H&M faux gold hoops.
Not bad, right? If you're not lucky enough to have a vintage set, you can buy one from ASOS, like this.
The jumpsuit, for when you're going to an important meeting:
Riri wore this hot black number to the 2012 Grammys. As usual, she edged up a simple classic with accessories like body chains, and a tousled, blond hairstyle.
I can't say enough good things about dark one-pieces. They're flattering on almost anyone. I chose a navy-colored jumpsuit with a plunging V-neck from Banana Republic (on sale!). My way of edging the look up was wearing my hair in two low buns on the sides of my head, big statement earrings from Forever 21 and chunky, 5-inch heels:
This black jumpsuit with a plunging v-neck from Nasty Gal should do the trick.
The tulle skirt, for when you're getting in touch with your feminine side:
I was fooling around on RiRi's Instagram the other day when I found this photo of her in a white sweatshirt-like top with exaggerated arm holes and a fabulous, ankle-length, pink floral skirt.
The key to emulating Rihanna's style and actually pulling it off is pairing super feminine pieces with sporty pieces. I love how she finished this look with a pair calf-length socks and Adidas sandals:
I made do with what I had: a sleeveless Urban Outfitters tee also with exaggerated arm holes, a bandeau peeking out underneath and this beautiful, midi-length, pink floral skirt from H&M (which is still on the rack and available if you're fast enough!)
However, I still need to cop a pair of Adidas sandals for myself so I can get to the heart of the look.
For the top half of the outfit, any cropped tee will do; the skirt is the part that really matters. A tulle skirt is a great counterpart because it emits that soft, girly vibe. Anthropologie has great skirts.
The gold on gold, for when you're feeling daring:
Who could forget Rihanna's 2015 Met Gala dress? Can this thing even be called a dress? Whatever it was, she looked like a goddess. Wrapped in a gold robe with gold accessories, she embodied the essence of what it means to be a pop princess.
Now, I know you don't just have shiz like this lying around at home but there are style points you can pull from this look. For one thing, all gold everything is totally hot.
So I took a gold dress that I have from a thrift store adventure (if you haven't yet noticed, marked-down vintage clothing is great for when you want to look like a big-time celeb) and paired it with gold ballet flats and a gold statement necklace I borrowed from Celine:
I'd say the more over-the-top you can go, the better. It's cool to see a true yellow-gold outfit, so make sure you go bold with your colors. I am LOVING this gold shimmer dress from ASOS.
The sporty-chic, for when you're just laying around:
This look is simple as hell, but it might also be my favorite. Even in its simplicity, it looks polished and chic. Rihanna threw on a Puma shirt with sweatpants, tied a sweatshirt around her waist and slipped into some sneakers, and somehow, she still looks beautiful.
When I'm hungover or just feel like chilling, this is kind of my go-to outfit. But if you're going to wear athletic wear out into the real world like she often does, there are a couple of things you should do to make it look polished, because otherwise you run the risk of looking, dare I say, unkempt.
For one thing, wear your hair down like she does, because that's the feminine part of the look. Beachy waves are always sexy, IMO. For another thing, make sure your athleisure is fitted, not baggy, because you don't want it to drown you.
I was dealing with baggy sportswear because that's all I have, but I still gave myself shape by throwing the bomber jacket over my shoulders and folding my Adidas sweatpants so they hugged my legs. I let my hair down and wore my favorite straight-lid hat:
Urban Outfitters sells these classic Adidas joggers. As for the shoes, I wore Converse because I live in them, but if you're not a Converse girl, Nike FlyKnits are hot AF right now (I just bought a pair myself). I look like a BAMF, do I not?
So there you have it, my ladies. I am not Rihanna, but I think I learned how to channel her as best I can, and that's good enough for me.