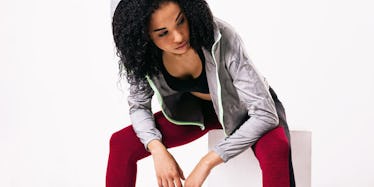 Millennial Women, We Can Do Better Than Athleisure
BONNINSTUDIO
I used to wear leggings.
Back when I was in college, I'd spend all night at a kegger and then have to wake up for my 8:30 am International Politics class. Wiggling my way into anything other than gym clothes simply wasn't feasible.
OK, so I only made it to three politics classes the whole semester. Still, leggings were handy AF. They were my low-key best friend. Without them, I never would have made it through the days I felt sub-human.
But that's what leggings were perfect for: those days I didn't feel like making a statement. Those days I felt like blending in with the rest of the world.
That's why I don't get my generation's affinity for athleisure, a trend in which people wear their sweatpants and gym wear to work and social occasions. The trend is nothing new, but it's only getting more popular as more and more companies create high-quality, trendy and stylish lines of activewear. Now people sport capri leggings and neon tank tops everywhere and call it an "outfit."
The problem is that while athletic wear can be cute, it is not real clothing. I can kind of understand running errands in it, but I'm less understanding when people go out to bars in it. And I've even see people coming to work in it. Not naming any names or anything, but IMO, wearing your gym clothes to work is unacceptable.
Why do I have issues with people trying to pass off athleisure as actual clothing? Because I spend a lot of time deciding on an outfit. Every morning, I spend at least 15 minutes trying on clothing, taking it off because I decide I don't like it, going back to the closet, trying something ELSE on, and finally deciding on something ... five outfits later.
The point I'm trying to make is I put a lot of effort into the way I look, and I expect others to do the same.
Listen, I get the struggle of wanting to be comfortable all day. But there are ways to be comfy without sacrificing style. How about a cotton tee with a long, breezy maxi skirt? Or a slinky, casual bodycon dress with a bomber jacket over it?
I mean, seriously, people. Put on some damn clothes!
Unless you're about to hit the gym, are pregnant, are a mom with three children or are as hungover as I was back in the day, you have absolutely no excuse. There are beautiful clothes out there waiting to be worn. But you're just throwing on those ordinary, unflattering leggings.
I'll admit, hooded sweatshirts and leggings look chic on Kate Hudson and Kendall Jenner. But we mere mortals are not like them, because we don't have a team of people who get paid to make sure we look #FLAWLESS before leaving our homes.
So please expand your horizons and dress like you actually cared what you threw on in the morning. Make athleisure a way you dress only when you REALLY can't deal with the world.
As women, we have a lot of power. We can send messages with the way that we dress: for the jobs we want. For the success we want to attract. If you want to attract fabulousness, you've got to embody fabulousness, and as convenient as athleisure is, I don't exactly think it sends a message that will resonate with the people you want it to resonate with. You can rock anything as long as you believe in it. My co-worker Zara, who wears tulle skirts and five-inch heels to work every day, taught me that.
Dress the part. You're better than resorting to leggings with a too-short top and drawstring hoodie.