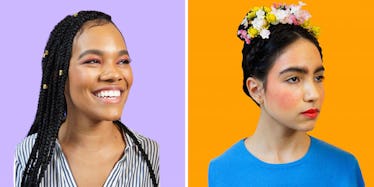 4 Ways You Can Take Beauty Inspiration From History's Most Badass Women
This Women's History Month, the Women's team at Elite Daily wanted to pay homage to four ladies who fought for women's rights throughout history. The process wasn't not only about recreating their looks, but also taking time to understand exactly how they impacted women's rights from the early 1900s until today.
Painter Frida Kahlo, political activist Gloria Steinem, rockstar Kathleen Hanna and modern-day pop goddess Beyoncé inspire us all to fight for the issues that matter most to us, like equal pay, abortion rights and sexism in the workplace.
Transforming into these four women, we felt empowered. We worked with Glamsquad stylists Fania Dambreville and Josh Nyitray to create our hair looks, as well as Samantha Jozic, senior makeup artist at Rouge New York.
While you recreate these looks, read up on how these women shaped the trajectory of women's rights.
Frida Kahlo
This Mexican painter was world famous for her self-portraits and feminist ideals.
Born in Mexico City in 1907, she later moved to the United States after marrying fellow painter Diego Rivera. While Kahlo never proclaimed herself a feminist, many women view her work as revolutionary.
Kahlo boldly displayed her monobrow and painted portraits of her most vulnerable self, like when she had a miscarriage. She even painted her back brace, worn after suffering a life-altering car accident in her youth.
Hair: Giovanni Vaccaro, Glamsquad creative director, describes this look as "100 times more intricate than it actually is." All you need, he says, is a selection of bobby pins and flower embellishments (we bought ours at Michaels).
Starting with a stark center part, begin creating two French braids on either side of the forehead and about five individual braids from the crown of the head. Cross the two front braids over the top of the head, securing with bobby pins. Twist and pin the back braids into a high bun, placing the flowers in its base and pinning to secure.
Makeup: Create a modern unibrow, if you will, by using dark brown powder to create big, bold brows that almost connect. Jozic used Becca Beach Tint in Papaya and Lychee to create the over-the-top cheek look Kahlo famously wore.
Gloria Steinem
Pioneer feminist Gloria Steinem has been a monumental voice for women's rights since the 1960s. As a journalist, she exposed sexism by working as a Playboy Bunny.
When helping create New York magazine, she wrote an extensive piece on abortion that made her a champion of women's rights. In the early '70s, Steinem started liberal feminist Ms. Magazine, dedicated to showcasing issues like domestic violence.
The author of several books, Steinem continues to fight for social justice at age 81.
Hair: Vaccaro suggests starting by creating a neutral front section. Then, choose a medium-size boar brittle brush and blow out hair with a volumizing root lifter to give the hair extra fullness.
Using a 1-inch barrel curling iron, wrap hair away from the face and pin the curls against the scalp to set for 10 minutes. After the pins are all out, rake through the curls with a bit of finishing oil for a polished end result.
Makeup: Use a foundation that's the closest match to your skin tone to create a flawless effect. Jozic created a '70s-style eye look using white shadow all over the lid and a dark taupe in the crease -- heavy eyeliner on the top and bottom lash lines is crucial. Finish off with a nude gloss.
All you need now is a pair of Steinem's trademark aviators.
Kathleen Hanna
Hanna is the driving force behind rock bands Bikini Kill and Le Tigre, but her work lifting up women everywhere is what really made her famous.
Feminist literature Hanna read at a young age shaped her decision to have an abortion after becoming pregnant at age 15. In the '90s, she created Riot Grrrl, a third-wave feminist movement that promoted female artists in the male-dominated punk scene.
Hanna famously performed with the word "slut" written on her bare stomach in lipstick and wore tank tops to show off unshaven armpits.
Hair: Vaccaro says to start by creating an off-center side part. If your hair is already dry, use a little heat-styling spray to wet the hair down around the hairline. Brush the hair backward and blow dry back to create and ultra-smooth hairline.
Once the hair is dry, use a brush to smooth it into a high pony secured with an elastic. Wrap the hairband in a one-inch section of hair taken from the bottom of the ponytail and teased lightly. Secure the end of the section with two pins crisscrossed at the bottom of the ponytail. Leave several shorter strands in front of the face for added texture and a softer feel.
Makeup: Focus on creating a messy, thick black line along the eye, using a shimmery, orange shadow for the lid. Finish off the look with a baby pink lip.
Beyoncé
Pop queen Beyoncé has been vocal about her feminist views this past year, although she admitted to being hesitant to use the word. At first, she worried about being criticized.
In her short film "Yours And Mine," Beyoncé said,
It's very simple. It's just a person that believes in equality for men and women. Men and women balance each other out, and we have to get to a point where we are comfortable with appreciating each other.
Her latest video, "Formation," was an anthem for black feminists everywhere.
Hair: Jenna, our office manager, already had Beyoncé-esque braids, so we didn't touch her hair. She placed gold beads throughout the braids for a playful, yet fierce detail.
Makeup: Jozic recreated the sparkly eye Bey wears in "Formation" by brushing red shadow all over the lid. Use a black gel liner along the lash line and a peachy lipstick to top it all off. To give the a dewy look to the face, apply Becca Shimmering Skin Perfecter in Opal.
This month, dig deep into history books and find that one woman who shaped your outlook on feminism. Recreate her look, then conquer the world.