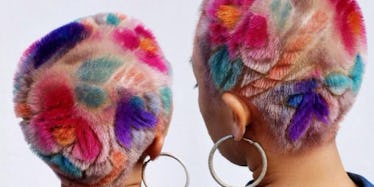 Rainbow Buzzcuts Are The New Instagram Trend That Might Actually Look Good IRL
Instagram
If you follow any of the beauty trends on Instagram, you know some of these ideas are just completely unmanageable for everyday life.
Sure, it's fun to look at feathered eyebrows or glitter undercuts, but I'm not going to show up to work like that.
I've been in need of something exciting for a while now, and it seems like some stylists in particular have mastered an artistic balance of bold and practical hair with the new rainbow buzzcut trend.
Hairstylist Janine Ker in particular has filled her Instagram feed with inspirational pics of the new trend, which she is pioneering in London.
It's punk-rock chic and casual as hell, and immediately brings to mind a million outfits you could wear to complement your new style.
Ker isn't new to trendsetting. She also set the trend for hair stenciling back in the summer of 2016 (one of the year's few highlights), and clearly has made it her mission to constantly be evolving as an artist.
I know the name sounds, well, aggressive, if you're conservative with your hair.
But these pics could inspire even the conservative beauty enthusiasts to want to try something brand new, not to mention it has the draw of a style that you know will take zero up-keep.
Sadly, I have a forehead the size of Elmer Fudd, so no, I won't be partaking in the new trend, but I will be supporting everyone who dares to take the rainbow buzzcut plunge with all my heart.
And sure, these are very festival-friendly, but you don't need a ticket to Burning Man to feel like this style could work for you.
Just imagine how cute this one could look on the beach with a solid black bathing suit and some gold hoop earrings:
Honestly I'm getting emotional about all the possibilities.
I mean, rainbow buzzcuts you guys. What a time to be alive!