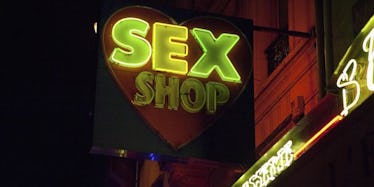 What's Pegging? 8 Questions You're Afraid To Ask The Sex Store Cashier
Getty
Whether you're a virgin or deserve trophies for your titillating conquests, sex shops are for everyone.
After all, the best part of any adventure is the opportunity to explore and discover new things.
The only barrier standing between you and reaching your greatest orgasm is your perpetual fear of asking a sales associate where the best dildos are located.
Don't know where to start? We headed to women-friendly sex mecca Babeland and tapped its co-founder, Claire Cavanah, co-author of "Moregasm: Babeland's Guide to Mind-Blowing Sex."
"Ask questions if you have them, be respectful of others," Cavanah strongly advises. "And do not leave without lube."
Slide on your big girl panties and hit up a sex shop of your choosing. But before then, here are all the questions you're probably too afraid to ask.
1. Which dildo feels like an actual penis?
Listen: At least once in every young woman's sex life, she finds herself in a drought. I mean, we can't all get laid like Samantha Jones.
But it's best to take matters into your own hands to avoid turning into a sexless grouch.
Grip Babeland's most realistic-looking dildo, The Mustang, and steer your way to satisfaction.
2. What kind of pleasure does the person who wears a strap-on receive?
Since we're all watching lesbian porn, I'm sure we've all wondered what pleasures strap-on dildos provide for the person doing the penetrating. Cavanah admits it's mostly mental.
"Some people love the feeling of power in giving someone else pleasure," she says.
But physically, the wearers can experience different types of stimulation,
Some dildos buzz against the clit of the wearer, and there are dildos with large bases that will grind against the clit of the wearer, too. A wearable vibe like the We-Vibe 4 Plus can be worn with a strap-on, too. Add a butt plug to stimulate yourself. There are endless possibilities.
3. Speaking of butt plugs, is there some type of anal sex starter pack?
Explore new frontiers when seeking spicier sexual satisfaction. Venturing into backdoor territory? Don't head back there without thick lube. Cavanah recommends butt plugs and silicone dildos for anal prep,
Try these to get used to the feeling of stretching and fullness. Some vibrate and come in different sizes. The main thing with anal sex is to go slow and relax.
Don't 'go big or go home' on this one if it's your first time at the rear-end rodeo. Start small and work your way up to larger sizes.
4. Luxury vibrators aren't always budget-friendly. Are they really worth it?
Some women are slaves to life's finer things, even down to their sex toys. But why buy a $200 B.O.B. when you can get the job done with its cheaper counterpart?
While lower-priced vibrators have great qualities, they can lack features like customizable speeds and multiple patterns.
Cavanah says,
Spending $100 or more on a vibrator can get you a lot of features like waterproofing and rechargeable. Some have apps, remote controls and other high tech features and are more expensive for that reason.
Treat your wallet well and find a sweet spot. The Pico Bong line, OhMiBod Lovelife toys and the Ooh line of mix and match attachments are great examples of more modestly priced vibrators with many high-end features.
5. Let's say I want my boyfriend to join in the fun. How can I safely peg him?
Role reversal isn't new, so don't feel ashamed to have a sex shop cashier point you in the right direction. See: Babeland's Bend Over Beginner Kit, which has accessories for both of you.
Cavanah insists,
Both of you can love it. Pain only comes when the sphincter muscle tenses up from the unusual sensation. Take your time and let him relax, and the prostate stimulation will feel incredible for him.
#Protip: Safe and pleasurable pegging is all about going slow, communicating, relaxing and using lots of lube. Need more info? Here's a how-to page about pegging.
6. What should I use when dabbling in bondage?
The point where pain meets pleasure is a fun place to explore. But if you're not ready to create a "Red Room of Pain" à la Christian Grey, start with Babeland's Under the Bed Restraints.
Cavanah explains,
Toys like floggers, riding crops and paddles all feel good for the same reasons they hurt, too. When a flogger's tails spread across your skin, it brings blood, sensation and your attention to the area. When you're being stimulated in other pleasurable areas at the same time, the lines cross, and it feels intense. Many people love it.
If you're not willing to submit like Anastasia Steele, maybe electro stimulation's more your style,
It works by sending pulsating currents to nerve endings, which contracts muscles.
Want to heighten your sensations without the frills? Buy a blindfold.
7. How can I take things, err, higher?
Want to take your sex game from level one to new heights? Try a sex swing that's easy to install.
"You don't have to DIY and end up on the floor with a bruised butt mid-orgasm," Cavanah assures. "It hooks over any door and can be stowed away easily for travel, too."
8. Are there any sections I should avoid?
Feeling weird vibes when you first walk in? Just leave. Other than that, Cavanah says don't shy away from going "where your sense of consensual, adult fun takes you."
She explains,
Some sex shops aren't very friendly or comfortable for women; they're geared to male customers and desires. If there's anything about the experience that doesn't feel right, just leave.
If all else fails, do some perusing online for quality, customer service and good information.