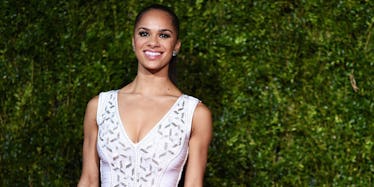 How To Master Off-Duty Ballerina Style Like Misty Copeland
Getty Images
When I grow up, I want to be a ballerina.
Unfortunately, I can't dance, have zero balance and am already in my 20s. The idea of spending my days pirouetting in front of a no-nonsense Russian woman gives me anxiety, reminding me of my actual grade school education in Rostov-on-Don.
I do, however, love tutus. That's the first step to "Black Swan" greatness, right?
I know I'll never really be a prima ballerina, but I still try to unleash my inner Nina Sayers. I'll never be as graceful as Misty Copeland, but I can try to copy her -- sartorially, I mean.
There's something distinctive about ballerina style. It looks graceful and effortlessly put-together without trying too hard. I can always pick out ballerinas riding the subway, based on the way they structure their wrap sweaters, scarves and leg warmers.
The trick to nailing the pretty, put-together look? Mix ballerina-inspired pieces with casual, masculine pieces. It's all about juxtaposition. If that sounds challenging, try doing the same thing with textures and colors: Pale pink looks lovely with stark navy, for example.
If you're still not sure how to piece a look together, keep scrolling. Or pirouetting, whichever. 
You don't have to be Carrie Bradshaw (or Misty) to rock a tulle skirt.
Tulle skirts can get princess-y real quick. Keep it modern with a hemline that hits right above or right below your knee. Any shorter, and you'll look like a kid at a ballet recital.
Instead of going for basic bitch chambray (seriously, every style blogger pairs tulle with chambray and it's frustrating) try mixing it up with an oversized sweater borrowed from the closest man in your life. Or, rummage through the men's section at your local H&M.
You can continue to play up the casual vibes by topping off the look with slip-on sneakers, but I personally like the idea of using the femininity of the skirt. Go with an ultra-femme heel (check out that bow, y'all!) and a rose gold clutch.
It really doesn't get more Pinterest-worthy than tulle and glitter.
Leotards act as a great update for an old-school slip.
Everybody knows leotards are hands-down the hardest workers in your entire wardrobe. They mesh perfectly with jeans and skirts when you're too lazy to tuck a skirt in. They're also so comfortable.
If you're not into hiding your leotard, show that sh*t off. Layering a leotard under an entirely sheer dress allows for plenty of movement, while still keeping any wobbly bits you might have covered (if you want to keep 'em covered, that is).
Finish off with a bootie and a sheer berry lip, and you're in business.
Pointe shoes will always look on point with grungy pieces.
There is no way to style flats in a way that hasn't been done before. Flats with jeans? Great. Flats with dresses? Awesome. Flats with sweatpants? Sure.
Faux-pointe shoes are a fresh take on your typical round-toe flat. They're pretty in that "princess off-duty" way, except this princess most likely spent all night head-banging in a mosh pit downtown.
Pair your pointe flats with your favorite destroyed denim jacket and a giant sweatshirt dress, two college wardrobe basics. Complete the look with a winking backpack. If your backpack isn't winking, you're doing something wrong.