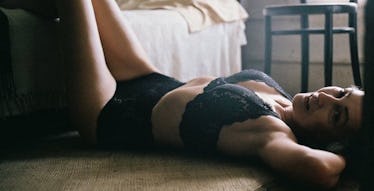 56-Year-Old Woman Posing In Gorgeous Lacy Lingerie Prove Sexy Comes At Any Age
Lonely Lingerie/Harry Were
New Zealand-based lingerie line Lonely is proving once and for all that ANYONE can be sexy by featuring 56-year-old model Mercy Brewer in their newest campaign.
It's like your mom modeling lingerie, but only if your mom was a super hot lingerie model. Easy to imagine, right?
OK, FINE. Bad analogy. The point is, Brewer is a super cool smoke show, and at 56 years old, she's rocking lingerie better than I ever have at 23.
Brewer's photos are part of Lonely's new "Lonely Girls" series, which has also featured "Girls" stars Lena Dunham and Jemima Kirke in the past.
But Brewer is no stranger to the spotlight, herself. The Huffington Post reported that the self-described "former punk" modeled with other familiar supermodels like Naomi Campbell and Kate Moss.
Helene Morris, one of Lonely's co-founders and designers, believed Mercy Brewer was meant to be part of their body-positive ad campaign. In a statement, she explained,
At Lonely, we feel that it is important to challenge what we see in our media with a more authentic reflection of beauty and hope to grow people's visual vocabulary. The beauty and fashion industries are so obsessed with youth, but the reality is we are all aging, and there are so many wonderful things about growing older.
Yeah, if I grow up to look anything like this, I'd say growing older is pretty freaking wonderful.
In an interview with Vice's i-D magazine, Brewer revealed she was a big fan of the brand before they even asked her to get involved in the campaign.
Apparently, she noticed some of their bras on different fashion stylists and makeup artists at fashion week and couldn't get enough. "To be blunt it's very sexy and extremely cool," said Brewer.
Seriously, she's a huge fan.
"There are some things I covet and Lonely lingerie is definitely one of them," she continued. "They love women and that shows in their intelligent design and inclusive marketing."
In that same interview, Brewer told i-D she hopes to raise "recognition that older women can kick ass when the opportunity arises" through her presence in the campaign.
YOU GO, GIRL. Keep working it.
Citations: five minutes with mercy brewer, lonely lingerie's 56 year old muse (i-D Magazine), This 56-Year-Old Lingerie Model Proves 'Older Women Can Kick Ass' (The Huffington Post)