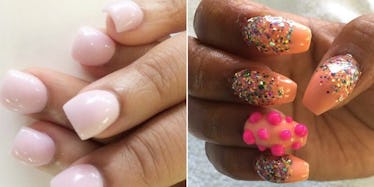 Crazy 3D 'Bubble Nails' Are Taking Over As The Latest Manicure Trend (Photos)
Instagram
If you're still rocking red-bottom nails and mood-changing manicures, I hate to burst your bubble, but you're falling behind on the latest nail art designs.
Recently, a new trend popped up all over social media, and I have to say, this might be one of the strangest beauty crazes I've seen in a while.
Behold, bubble nails.
Bubble nails, also known as hump nails, ditch the flat, boring fingernails and, instead, use layer upon layer of acrylic to turn your nails into bodacious 3D designs.
Now, you're probably wondering,
How the hell do you even get your nails to look like that?
Hoa Bui of Ann's Nail Salon told NAILS magazine,
You start with a ball of acrylic in the middle of the nail, which is the highest part of the hump. The nail has to be thin at the cuticle, then it gradually gets thicker as it gets to the middle of the nail plate. Then from the middle of the nail plate it has to gradually get thinner at the tip of the nail, like a nice smooth hill. The curve has to be perfect.
I'm not really sure how I feel about decking my digits out in dome-shaped acrylic.
But if you're brave enough, there are lots of different bubble nail variations you can try out.
Take a look at the pictures below to see this new nail art trend.
Move over, mood-changing manicures.
There's a new trend blowing up the beauty scene.
Bubble nails are popping up in nail salons all over the place.
So, what exactly are bubble nails?
Bubble nails transform your tips into spectacular spheres...
Creating 3D dome-like appearances...
...thanks to thick layers of acrylic on top of the nails.
To get a bold bubble manicure, you start by placing a big blob of acrylic in the center of each nail to create the hump...
...then, you make the acrylic gradually thinner as you reach the perimeter of the nail.
Keeping the acrylic smooth is the most important part.
There are tons of ways you can get in on the hump nail trend.
From puffing up your nails with some pearls...
And bedazzling your bubbles in bling...
To decking your domes out in floral designs...
And adding some sparkles to your spheres...
...there are plenty of techniques to keep your bubblicious tips turning heads.
Citations: Bubble Nails Might Be The Curviest Nail Trend Of All Time (Mashable)