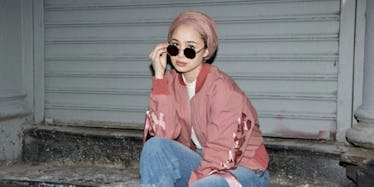 10 Muslim Bloggers Serving Up All Of The Beauty & Style Goals
Maria Alia Instagram
Muslim women who wear their hijabs, also called "hijabis," have long been slaying the fashion scene, proving what we knew time and time again: Girls run the world.
Muslim women are a huge part of the fashion market, and brands are finally starting to recognize that -- hence, H&M hiring Muslim model, Mariah Idrissi, for its 2016 campaign, and Halima Aden walking in Kanye West's Yeezy show.
Other brands like Tommy Hilfiger, Mango, and Dolce & Gabbana have also created Muslim collections.
The nail polish brand, Orly, also created an entire halal nail polish line for Muslim women who can't always wear regular nail polish, due to their ablution water practices and ingredients that are impermissible by Islam.
In short, Muslim women have always been killing the fashion game. Here are a few of the most stylish women on social media for you to follow and of course, take a few style cues from.
1. Sobia Masood
Sobia Masood is a Fashion Institute of Technology student and is slaying in this metallic pleated midi skirt from H&M.
2. Maria Alia
Maria Alia has a casual yet edgy street style that never seems to disappoint. Her go-to statement piece always seems to be outerwear, evidenced by this pink bomber with bold ribbons on the arms.
Treat yourself to more of her aesthetic by falling down the rabbit hole in her self-titled blog that follows her street style shoots in New York's Soho area.
3. Saufeeya Goodson
Saufeeya is a Dubai-based blogger who knows how to kill a sleek, minimalist look effortlessly. Her styles are always very versatile, and range from denim-on-denim to monochromatic sets.
4. Dina Tokio
Dina Tokio is a makeup artist, designer and one of the most popular Instagram fashion influencers with over one million followers.
She's an expert at mixing prints, playing with silhouettes, and also has an enviable minimalist shoe game. As you can tell by the video, working a monochromatic look is one of her styling strengths.
5. Basma K
Basma is the founder of the Basma K Collection, an online hijabi/scarf boutique. Her use of prints and bold colors is what makes her style stand out so beautifully.
6. Sagal Ibrahim Shire
Sagal does prints wonderfully but my favorite looks of hers are when she steps out in an all-neutral ensemble. With flowy fabrics and simplistic hues, her outfits always look top-notch.
Catch all of her baby-bump style inspo on her blog.
7. Yasmine Simone
Simone is a makeup artist from the DMV area, so she will easily serve up lots of beauty and street style inspiration.
8. Hassanah El-Yacoubi
Hassanah El-Yacoubi is a designer and public speaker whose personal style is modest, but teeters on old Hollywood-esque glamour. Her pearl-embellished pants are everything and yes, she did just turn beach wedges into super high fashion with this outfit.
El-Yacoubi also owns an online boutique called Perfect For Her (PFH), which sells clothing and styling services to Muslim women.
9. Sabina Hannan
As a makeup artist whose flawlessly painted face always adds to her amazing outfits. Her usual go-to style is long, flowing pieces in neutral tones with pointed, closed-toe heels peeking from the bottom, and a statement cross body bag.
Visit her Instagram for style inspiration and her YouTube channel for makeup tutorials.
10. Fatima
Fatima does ready-to-wear fashion with such a cool, laid-back demeanor. She just officially launched her fashion YouTube Channel in April, but the way she puts the looks together, you'd swear she's been doing this forever.
Hope you took notes! This is peak style goals here, people.