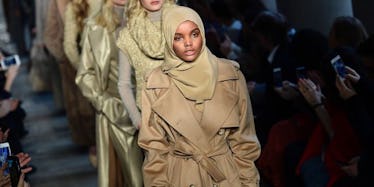 6 Things To Know About Halima Aden, The 19-Year-Old Miss USA Judge
Getty Images
Remember a time when you used to hear about the Miss USA pageant and didn't completely cringe at misogynistic undertones?
Or, remember when you heard "Donald Trump," and just thought of him as that reality show guy who says, "you're fired?"
Let's close our eyes together and revel in that time.
Now, back to reality:
Trump is president, instead of merely just reality show millionaire and ex Miss USA owner. And while the Miss USA pageant still exists (Sorry, Robin Morgan.), at least it has made some strides.
One of those strides has come in the form of incorporating a diverse array of judges. This year, the pageant will see transgender activist and writer, Janet Mock; "The Real" co-host, Jeannie Mai; and model, Halima Aden as judges for the event.
Aden was a semi-finalist in the Miss Minnesota USA pageant last year, and fiercely owned the stage in her hijab and burkini.
But breaking down barriers in the pageant scene is not all Halima Aden is known for, as she's spent the last year as a major fashion model in magazines, campaigns and runways around the world.
Here are a few places you've probably seen the 19-year-old change-maker, and a few things to know about her before the Miss USA event this Sunday night.
1. She's a refugee from Kenya.
Aden is Somali-American and was born in a Kenyan refugee camp. She later relocated with her family to Minnesota, where she eventually became a US citizen.
After seeing Aden in the Miss USA pageant, Roitfeld photographed Aden for her magazine, CR Fashion Book.
The former Vogue Paris editor's decision to make Aden a cover star then led to more notoriety in the fashion world, and eventually caught the attention of IMG Models agency.
3. She's IMG's first signed hijabi model.
Not only has Aden made history as the first Miss USA contestant to wear a hijab, but she's also the first hijabi model represented by IMG, although she is not the first Muslim model the agency has represented.
Aden spoke of the difficulty she's experienced incorporating hijabs into her everyday fashion, telling Glamour,
You know, it's so hard finding a good one with patterns. It's not like I can just walk into the mall and find a hijab. It's still kind of limited.
4. She's a runway model.
Since participating in the Miss Minnesota USA pageant, Aden has gone on to walk the runway for major fashion brands like Yeezy, Max Mara and Alberta Ferretti.
Aden told Glamour that fellow IMG model, Gigi Hadid was quick to offer pointers on perfecting her catwalk,
During rehearsal, I kept tripping. And [Gigi] was like, "Girl, it's fine; it happens to all of us. If you make a mistake, just stay confident and keep going. The audience doesn't know the walk pattern." She was like, "Carry on!"
5. She speaks out on the judgment her religion receives in mainstream media.
While a more modest look works for Aden personally, she recognizes there are many different ways to feel beautiful, and encourages women and girls to do what feels right to them.
Aden told Refinery29,
I feel best when I am modestly dressed. It's a choice I make and am proud of; for me, I don't think I have to show skin to be beautiful. There is a misconception that young Muslim women are oppressed. That simply isn't the case. I choose to dress modestly and choose to cover my hair with a hijab; not all Muslim women make that choice and that's okay. We are all different!
6. She's just landed her first starring campaign.
The Modist is a luxury clothing company founded by Ghizlan Guenez.
Guenez revealed to Refinery29,
We have long known and understood the frustration that a modest dresser goes through to find fashionable and trendy pieces that fit the parameters within which she chooses to dress and that fit her personal sartorial preferences. [She] has historically not found many destinations both online and offline that truly address her needs in a thought-through, considered, and elevated end to end experience kind of way.
According to Fortune, spending on modest clothing is expected to hit $484 billion by 2019.
As the face of The Modist's campaign, Aden is filling a much needed void in the fashion industry, one that the industry is only just catching on to.
What she's looking for in a Miss USA contestant:
According to the Miss USA website, Aden has a very specific woman in mind who she envisions taking home the crown.
Aden said,
I am looking for someone who has a presence and who personifies the modern woman of 2017. She is smart, classy, and beyond beautiful. She can turn heads and then make powerful and positive change in this world with the attention and notoriety she receives.
She added,
The impact female role models have today is so significant. I grew up not seeing anyone who looked like me on TV, billboards, or in magazines. I never imagined that I could someday become a professional model as there hadn't been women with my background who paved the way before me. It is important for all women to be trailblazers and to be the change they want to see in this world.
The Miss USA pageant will air live this Sunday May 14 on FOX.
Good luck to all the contestants! Luckily, you get to avoid the creepiness of The Donald this night, and focus on how to make the world a better place with your crown.
Sunday's contestants have a great role model in Aden to look up to.