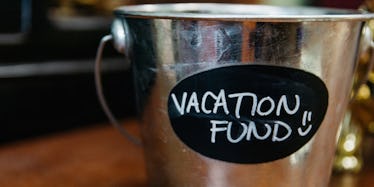 7 Money Saving Apps To Keep You On Track When You Suck At Budgeting
Having money isn't just about spending it. Between budgeting, saving, investing, tracking and protecting your finances, there's a lot to handle.
The problem with managing money is how much time it takes, since most of us barely have enough hours in the day to do laundry. An app that cleans your clothes for you doesn't exist (yet), but there are handy money apps to help you get organized and stop worrying.
In college, I probably looked at my bank app once a month to see what was up. Checking it was sweat inducing and I hated it, but I knew it was necessary.
When I graduated, my mom sat me down to create a budget. I was expecting a boring, brain-frying afternoon of staring at an Excel spreadsheet. Instead, my savvy mom pulled up Mint, a money-managing app I immediately fell in love with.
Like any girl with an obsession, I went on an app downloading spree. Select the ones best for your money needs, since every wallet is different.
Get better at saving with Digit.
Digit is a free money-saving app that squirrels money away from your checking account into a separate online savings account. It's a godsend.
The app securely hooks up to your bank account and analyzes your spending habits. A few times a week, it automatically withdraws anywhere from $5 to $50 from your checking account, based on its calculations. There's also a no-overdraft guarantee in place.
Every day, Digit sends a text with the amount of money in your checking account. You can text it back with different commands, like "Total," which prompts Digit to send how much you saved.
I've been using it for around three months, and I've saved almost $300. It's like finding money in a jacket you haven't worn in months. You can withdraw money by texting the command "Withdraw."
Learn the basics of investing with Acorns.
Investing is intimidating, but Acorns takes the pressure away by using your spare change.
Acorns withdraws money from your checking account, rounding up to the next dollar from your daily charges. It  uses those pennies for investing. Over time, spare change can add up.
You can withdraw at any time, but when it comes to investing it's good to stay in it for the long run. You have to let your investments grow. To use investing apps like Acorns, be ready to commit for a couple of years.
You don't have to pay for the app, but investment account management does cost you a little bit. For students and anyone under the age of 24, Acorns is free. If you don't fit that bill, there's a $1/month fee for account balances under $5,000. If your account is over $5,000, the fee is 0.25% a year for management.
Swap your Excel budget for Level Money.
Level Money is a free and straightforward budgeting app that lets you know exactly how much you have to spend on any given day. The app securely connects to your credit cards and bank accounts, and you fill in income and expenses.
Wrapping your mind around how much you can afford is tough. With Level, it's easy to check if you have enough to spare for those shoes you need to own.
Keep your accounts secure with Prosper Daily.
Looking at your monthly statements can be terrifying. You can drive yourself crazy dissecting each charge you don't recognize, trying to figure out if it was really you who swiped the card.
Yeah, maybe you did pay for the cab you took blackout drunk with a credit card you rarely use, but maybe it was someone with your card info. Either way, you'll never worry about a mysterious charge again if you use the basic, free version of Prosper Daily.
Prosper Daily can help track money and provides a free credit score, but it's also a security system for your money. It analyzes incognizant charges, like money spent on subscriptions you meant to cancel.
Don't let your friends owe you money with Venmo.
I love Venmo.  Like most money apps, Venmo uses bank level security and data encryption, and it allows you to pay friends out of your checking account. $10 for a beer, transferred and done.
Venmo is one of the easiest methods of getting your friends to pay you back for cabs, drinks and pizza. I even pay my rent through Venmo, because who writes checks anymore?
Keep your eye on the prize with Unsplurge.
Unsplurge is a free app for sticking to your goals. If you struggle with being motivated to save, having a specific goal in mind helps a ton. For me, it's $1,000 for my IRA and then $800 for a new snowboard.
Unsplurge also comes with a community that helps hold you accountable for your goals. You can see what other users are saving for, liking and commenting on their progress.
Take your saving to the next level with Qapital.
Qapital rules. If you have the motivation to save and want to take it up a notch, Qapital implements rules for saving.
Love to treat yourself to luxurious massages? Every time you pay for one, you can set up a rule so Qapital charges you money that goes into a savings account. Like Venmo and Digit, Qapital puts money aside for you to withdraw at any time.
Qapital takes the thinking out of saving. Set it and forget it.
Do you need all these apps at once? Probably not. It depends on what type of spender, saver and investor you are. Whether you're trying to budget smarter or learn more about investing, there's an app that can help you develop better money habits.