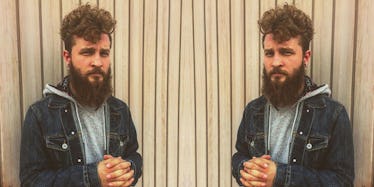 Like Your Mom, The Stylish Men Of Instagram Are Trying Out Curly Perms
Although many men choose to shear their hair off completely or slick it back (thanks, Scott Disick), a man with a stylish 'do is one of my very favorite things. In fact, I know guys who score dates solely based on the quality of their hair, from texture to shape. And I understand why.
Men who've caught on to the fact that we're eyeballing hair are seeking new ways to up their follicle game. Following a movement which seems to have picked up initial popularity in South Korea, guys are heading to salons for a bouncy upgrade.
In our countless hours hunting down style trends on Instagram, we've come across a budding masculine hair trend that requires an actual trip to the salon.
Following the success of buns and braids, the #ManPerm is ready for its time in the Instagram spotlight.
Like their mothers and over-perfumed aunts, some modern men are seeking out the perm.
The short, "permanent wave," uses curlers and chemicals to set a wavy style that'll hold with virtually no work.
The #ManPerm lasts for many weeks.
Men wake up, run their fingers through tousled curls and get to work.
There's no need for time-intensive pomade or gel.
Guys love a style that looks just as good after a weekend of binge drinking Miller High Life as it does during a morning meeting.
Earlier this summer, BuzzFeed released a comedy video wondering what might happen if modern guys embraced the artificial wave.
Although they posited the idea as a humorous throwback to the perm-heavy 90s, it's clear many men take the perm seriously.
In our opinion, it's more Bradley Cooper in "Silver Linings Playbook" than "American Hustle."
We've been missing Justin Timberlake's famed "ramen noodle" hair. Until now.
The 2015 version is an updated, easy way to pay homage to the 'N Sync star's look.