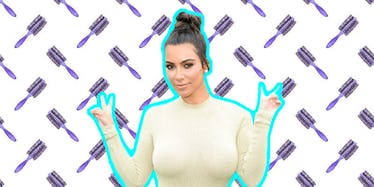 Let's Talk About Why Kim Kardashian's Hairline Has Been Looking Different
REX/Shutterstock
Another day, another beauty question to answer about the mesmerizing glam routines of the Kardashian family. I'm not even kidding, I'm mostly just fascinated.
This weekend, I couldn't help but notice fashion bloggers posting photos with none other than kween Kim Kardashian at Revolve's summer Hamptons House. Aside from noting how much she got paid for the appearance, the really striking part was Kim's new look: a high bun with wispy side pieces and a hairline that looked decidedly strange. It seemed higher than normal and uneven around the ears.
Kim famously nixed her baby hairs years ago. In April, the star wrote that she regretted the decision, adding,
I lasered my baby hairs off years ago because my forehead had all these little baby hairs, and I would always break out because of them... Every photographer would photoshop them out anyway, and I thought I looked better without the baby hairs, but now I miss them. I think they look youthful!
Always one to use the Kardashians as a chance to teach a strangely niche beauty lesson, I reached out to the laser experts at New York's Spruce & Bond laser and wax center for commentary. According to senior specialist Christi Alldredge, Kim seems to be actively trying to regrow the feathery strands.
Alldredge explained,
It looks like Kim may be trying to grow back some of the finer hair that she had removed with laser treatments. Her hairline has risen dramatically over the years, giving her an unnatural look, and it's possible that she is trying to correct this.
Alternatively, maybe the one-woman power move is now trying to look like Queen Elizabeth and take power singlehandedly. I accept both explanations, save the fact that Kim would never be caught dead in a powdered ruff that might cover up the body she works so hard for.
Alldredge added that hair removal along the forehead and neck doesn't have to look unnatural, it's just very important to use lasers carefully and sparingly. In other words, scheduling a consultation before you zap anything off is important.
Another beauty mystery in the books.