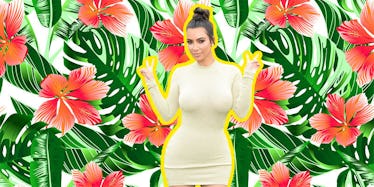 This Is How Much Kim Kardashian Gets Paid To Show Up At One Hamptons Party
REX/Shutterstock
Taylor Swift might be the highest paid celebrity, but Kim Kardashian is making $700,000 just to go to a party.
So far, I'd say the score is looking like Kim: 2, Taylor: 0 for this week.
According to a report from Page Six, Kim K got paid $700k to show up at the Revolve Hamptons House on Saturday and take selfies with bloggers and Instagram stars.
Meanwhile, when I show up at a Hamptons party I'm considered "not invited"  and "extremely underdressed."
The site also reports she was accompanied by 25 bodyguards. Kim's team has yet to comment on this, but the numbers were reported by the organizers of the event.
Look, if someone offered you almost a million dollars to go to a Hamptons party, wouldn't you be a little suspicious it was some sort of kidnap situation, too?
But seriously, what a week for Kim. Taking down her enemies on Snapchat, raking in almost a million dollars for existing and possibly breaking the law?
You gotta admit, Kim's got style.
Kim has also made over $150 million from just her mobile app, and she currently ranks 42nd on Forbes' 2016 list of highest paid celebrities.
Not bad for a girl with no talent.
Citations: Kim Kardashian Was Paid Nearly $1 Million for Recent Revolve Hamptons Event: Report (Us Weekly)