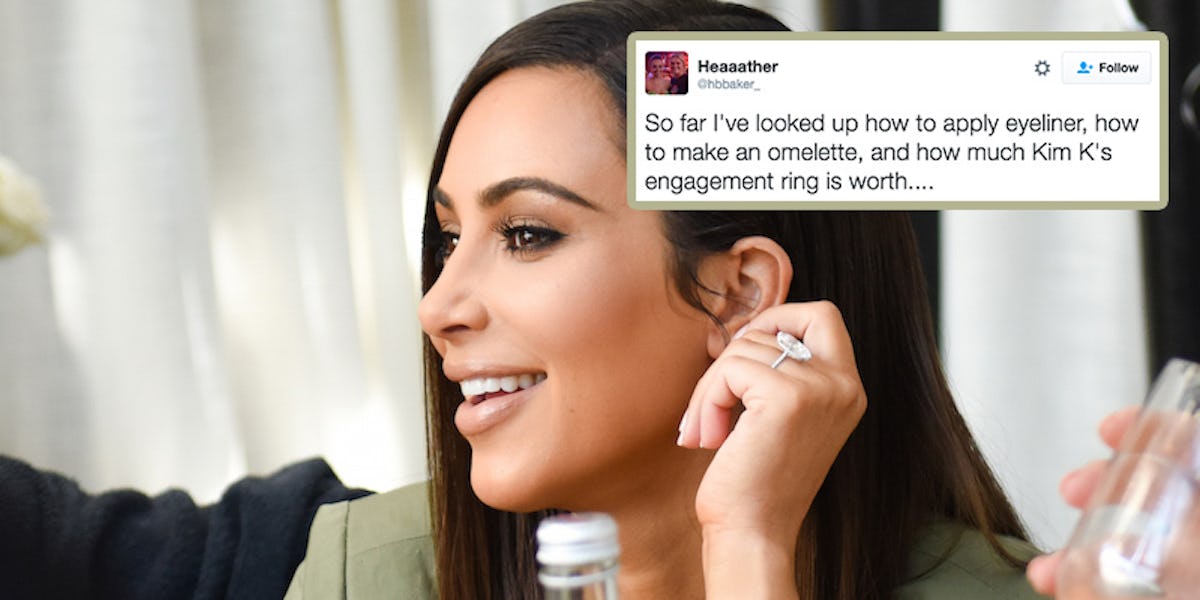 Twitter Is Losing It Trying To Figure Out If Kim K's Engagement Ring Got Stolen
When a celebrity's engagement ring goes missing, everybody panics.
At least, that's the takeaway from Kim Kardashian's recent gunpoint robbery at the hands of criminals posing as cops.
In the days following the traumatic incident, (Kim reportedly told the real police she feared being raped.) more details have emerged about what's gone missing. The New York Times reports that a jewelry box and a ring were taken.
Potentially, it's a very important ring that's vanished. And understandably, Kim's Twitter fanbase is up in arms.
Fans are tweeting their distress at the potential theft of Kim's famous engagement rings — there are two. You know, the 20-carat stunner husband Kanye West gifted his wifey to replace her original, 15-carat diamond?
Stealing a diamond that symbolizes fidelity between two of the planet's sexiest people is akin to stealing a flag off the White House roof.
According to reports, the missing ring adds up to $4.9 million, while Kanye's gift was valued at a relatively small $1.5 million.
No official statement has been released regarding the ring, but tabloids have been quick to point out Kim arrived in New York City without a ring on her finger at all.
Granted, the poor woman could just be paranoid about wearing flashy jewelry after the trauma she's experienced. But why would you break into her room for diamonds and then leave the shiniest one behind?
Twitter sleuths are on the case, but don't believe the hype and headlines until police officially confirm the loss. If the rumor is true, it would make a devastating loss for both Kim and Kanye.
Engagement rings aren't just property. They're sentimental. That's a fact some fans have been quick to point out.
Kim and Kanye may be wealthy, but replacing millions of dollars in jewelry will make even their padded bank accounts chafe. Here's hoping there's a seriously good insurance policy behind the scenes.
Or, you know, Kanye could just go full-on "Taken."