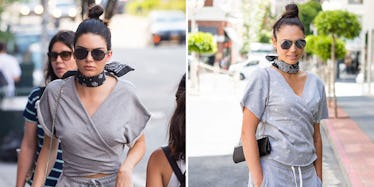 The Easy Way To Make Your Sweatpants Into A Summer Outfit Like Kendall Jenner
Splash News Brit + Co
Here at Brit HQ we love a good style hack, and we love it even more when it's inspired by one of our favorite celebs.
Earlier this week, Kendall Jenner rocked an Alexander Wang sweatsuit that probably cost a pretty penny. Don't worry about the price, though, because when you DIY you don't need to spend a lot of money. With this quick style hack, turn your winter sweatsuit into a brand new summer piece to lounge in.
Thanks for the inspo, Kendall!
Materials: Sweatshirt and sweatpants Sewing machine Pins Fabric scissors
Summer time means more skin and less clothes — cut off the bottom of the sweatpants to turn them into sweatshorts.
Use your fabric scissors to remove the sleeves and waistband of the sweatshirt. Cut off one sleeve and then use it as your guide, cutting the other sleeve to the same length.
Cut up the center of the sweatshirt and turn the collar into a deep V-shape. Again, use the first side as your guide to cut the same shape on the other side.
Guess what? We're going to use a piece of fabric from the pant leg to create the wrap of your sweatshirt. Waste not, want not.
Use about 9 inches of fabric from your pant leg to create the wrap of the sweatshirt. Cut down the seams of the pant leg to create individual squares. Lay one square onto the sweatshirt with the edge of the square along the diagonal edge of the V-neck.
Trim the edge to make it straight and pin to the edge of the sweatshirt, then sew. Follow the same steps for the other flap of the sweatshirt.
Trim the bottom edge, making sure it's a straight line. Then, fold over and stitch into the opposite side's seam.
Follow the same steps for the front panel — fold over and pin to the opposite side's seam. Then sew!
"Paparazzi, please. I'm just on my way to brunch with my sisters. Please just let me get in my fancy car in peace."
Show us your project by tagging us on Instagram + using the hashtag #iamcreative!
DIY Production and Styling: Kelly Bryden Model: Caitlin Silva Photography: Brittany Griffin