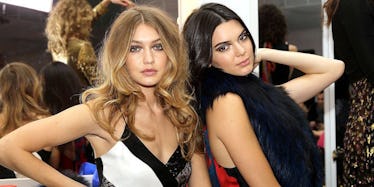 Tyra Banks Epically Defends Kendall Jenner And Gigi Hadid's Model Status
REX/Shutterstock
Tyra Banks is calling BS on her fellow models dissing Kendall Jenner and Gigi Hadid.
Last week, supermodel legend Stephanie Seymour asserted supermodels are "the thing of the past," and models like Kendall and Gigi don't deserve that title.
Well, Kendall wasn't very happy to hear that, understandably, and she wrote a blog post defending herself and Gigi's work and expressing her disappointment toward Stephanie's attitude.
Now Mother Tyra is using her status as one of the most well-known models in the world to hopefully put an end to what she calls the "model war."
In a lengthy blog post on her website, the 42-year-old former model and reality TV host wrote while she understands the motivation for Stephanie's harsh words, she ultimately stands by Kendall and Gigi.
Calling herself a "hybrid," Tyra wrote she feels she is in the middle ground of the feud, as both an old-school supermodel and a reality TV star.
First Tyra addressed her fellow OG supermodels.
Tyra wrote,
We worked runways and shot magazine spreads together, schlepped to countless go-sees, used pay phones for on-the-go communication, and subways for transportation around the globe – no cell phones, Ubers or Lyfts around. Our GPS were huge, awkward maps in Italian and French that we pulled out when lost and scared... And, after all that hard work, dedication, sacrifice, sidewalk pounding, map folding, metro riding, model apartment living… after all the blood, sweat, fears and floods of tears… we finally were bestowed with the coveted title of Supermodel!
So, Tyra gets it. She GETS it. Things were hard back when there was no such thing as Uber, right? (Wait... Someone tell Tyra about cabs.)
But, she went on to say, that doesn't mean the hard work the new supermodels are doing isn't real.
Tyra addressed the young-up-and-comers like Kendall and Gigi, writing,
You're kicking ass, working hard, running from show to show, shoot to shoot and party to party (because you have to be seen and have a cool social media post that night because your followers are complaining you haven't been posting enough lately). You're driving yourself into exhaustion all while showing the world post by post that it looks so easy, when in reality, it is anything but. The pressure is ON.
Aw, Tyra, good for you for standing up for the young ones!
I guess it's official then — because if the early 2000s taught me anything, it's if Tyra Banks says you're a top model, then you definitely are.
Citations: Tyra Banks Defends Kendall Jenner and Gigi Hadid Against Comments That They're 'Not True Supermodels' (Entertainment Tonight)