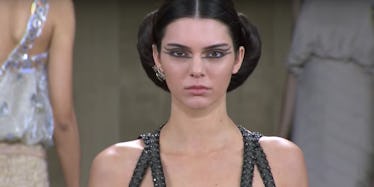 Kendall Jenner's Croissant Hair Actually Has A Really Badass History
Another day, another trending hairstyle that sweeps across the Internet. But, every supermodel updo is not created equal.
During Chanel's Haute Couture show on January 26, it-girl models like Gigi Hadid and Kendall Jenner strutted the runway in couture fashions that would surely pay the average girl's rent all year long.
Every step Kendall takes makes news, but not always the kind founded in women's rights.
The thick, swept-up bun Jenner wore has the Internet screaming "croissant hair!" thanks to the style's resemblance to a favorite French treat.
Actually, though, the style played a pivotal role in the birth of 20th-century feminism.
Let's go back to the beginning. Before Karl Lagerfeld and the birth of Chanel, there was an illustrator named Charles Dana Gibson. Just before the turn of the century, Gibson began illustrating women using pen and ink.
A model named Evelyn Nesbit posed for Gibson, all tiny waist and flowing hair. The artist took liberties with the model's image, posing her figure on dates and in fancy dresses. With her bouffant and hourglass curves, the archetype soon became known as the "Gibson Girl."
She didn't just stick to the pages of popular magazines, either. Real women loved the Gibson Girl, copying her en vogue style of dressing and her chic, loose hairstyle. Her 'do was most commonly a pushed-up bun that's not too far from today's popular hun.
But, as time went on, other styles emerged thanks to the Gibson Girl. Soon, women began rolling up their long locks and pinning them at the napes of their necks.
Enter the famed "croissant" shape once known as the Gibson tuck.
In illustrations for popular magazines like Life, Gibson showed his girl carousing and generally enjoying her youth. If Instagram had existed back then, she and Kendall Jenner would've posed for selfies together.
For almost 30 years, the Gibson Girl represented the "New Woman," a kind of liberated lady free to have fun.
Instead of sitting inside and waiting for suitors all day, this woman hopped on her bicycle or stripped down for a swim in the summer heat. She practiced hobbies like painting and playing music.
Instead of waiting for a man to love her, the New Woman took charge of the courtship. She had the power, not the men around her.
Sound familiar? This group of ladies were precursors to the freewheeling, knee-baring flappers of the 1920s. Daisy Buchanan, much?
It's in this same culture of female empowerment that one Coco Chanel was born. Around the time the New Woman and the Gibson Girl ruled pop culture, Coco was just a young seamstress eager to make her mark on the world.
It stands to reason, then, that the French influencer would probably have tried out the tuck herself. And, 100 years later, Chanel head designer Karl Lagerfeld would recreate and modernize the style on his runway.
In fact, hair stylist Sam McKnight let it slip that he drew inspiration from Picasso's 1932 statue "Head Of A Woman" for the Parision presentation. You probably guessed it, but the bust is wearing an abstract Gibson tuck.
Kendall Jenner, 2016's Gibson girl, is only one in a long line of liberated women to wear the historic style.