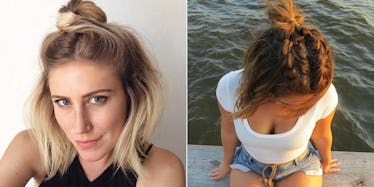 The New It-Girl Trend Is The "Hun," The Half-Bun Sweeping Social Media
Instagram
Lil Wayne popularized the saying "long hair, don't care," but he had us living a lie.
In reality, long hair is very much something you're forced to think about every single morning.
Each day, you wake to find a veritable eagle's nest residing on top of your head. After showering -- which involves a lot of conditioner -- it's up to you to figure out a style that's not a ponytail.
Enter the half-bun, lovingly nicknamed the "hun." The 'do, which you might know best as the one your mom used to keep hair out of your infant face, is back in full force for adult women.
Although tightly-wound offices may not allow the precarious knot of hair on top of your head, the style is an excellent way to showcase your painstaking ombre or bayalage.
We always enjoy seeing a vintage look updated for the current season, so it's important to note the ways 2015's hun is different from those your hippie aunt loves to wear.
Aside from its social media dominance, the modern half-bun comes in bright hues and intricate braids. It's relaxed, but never lazy.
The hun is pretty much the half-pony you loved as a child.
Just like you, it's grown up and gotten a little more polished.
It's especially helpful if you're combatting day two hair.
And, unlike many hair styles, the "hun" works well with any texture hair.
Even the curly girls can get involved.
Dressed down, the hun is the perfect complement to an afternoon playing tourist in your own town.
Paired with lipstick and killer costume jewelry, you'll look like a veritable style icon.
Try adding a few braids to the look to make it fancier.
It's Brigitte Bardot-inspired hair, done in minutes.
If you're ready to take your hun to the next level, wear it on brightly colored hair.
It's not often you can brag about "next level hun," either.
Another power move: Wearing your hun to the gym.
You can even give it a bit of a Gibson Girl pouf at the front.
The style says, "I'm trying, but not that hard."
It's the b*stard child of a 1980s mullet and a classic ballerina bun.
Business in the front, party in the back.