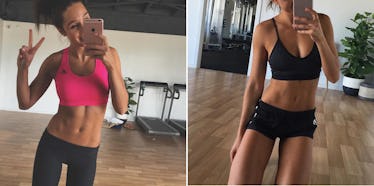 Why Kayla Itsines Regrets Calling Her Workout Plan The 'Bikini Body Guide'
Kayla Itsines doesn't care about your bikini body. Let that sink in for a second. The celebrated trainer, who's inspired thousands of women to totally reshape their bodies and lose weight, just admitted she regrets calling her workout plan the Bikini Body Guide.
Itsines, 25, is the Australian powerhouse at the helm of a calorie-burning, bicep-curling army of women. They download her ultra-intense PDF workouts, pay $20 a month for her fitness app and even, as Bloomberg notes, fly across the country to see their idol when she hosts a rare training session.
Will she make you cry if she learns you've been sneaking doughnuts instead of sticking to quinoa and salmon, as outlined in her meal plan guide? Probably. But, according to Itsines, she still wants all her followers to be happy in their own skin.
In recent years, the idea of a "bikini body" — ie the six-pack abs you must develop in order to go swimming — has been much maligned. Refinery29 launched a "take back the beach" campaign, Women's Health pledged never to use the term and a fitness supplement company in the UK received a slap on the wrist for its ultra-fit ads.
This certainly isn't the same world it was when Itsines started her brand in 2013.
She told Bloomberg the idea of a bikini body is too restrictive, saying,
Do I regret calling my guides Bikini Body? My answer is yes. That's why when I released the app, I called it Sweat With Kayla. Sweat is so empowering. I love that.
This isn't the first time Itsines has jumped into the ring of body image debate, either. When Instagram model Essena O'Neill posted a controversial "real" look at being beautiful on social media, the trainer wrote her own inspirational post. Her body and life might be aspirational, but Itsines stressed the importance of an individual body and journey for everyone. What's more, she once told Elite Daily the only workout mistake is stepping on a scale.
Now, get out there and sweat. Bikini optional.
Citations: THE BIKINI BODY CULT OF KAYLA ITSINES (Bloomberg)