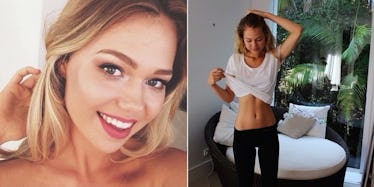 Former Instagram Model Edits Her Posts To Reveal Truth Behind The Photos
Internet model Essena O'Neill's vendetta against the world of social media is beyond captivating and probably better than anything on Netflix.
When it came to Instagram celebrities, there were very few models who had a higher amount of social currency than the 19-year-old model from Australia.
Her Instagram account, which featured a standard mix of scenic and seemingly candid photos one can expect from someone who makes her money looking good next to waterfalls, boasted close to 580,000 followers.
She had another 260,000 subscribers on her YouTube account and 60,000 on Snapchat.
That was before her Will McAvoy-esque breakdown -- a breakdown that led her to delete over 2,000 photos and go inactive on her YouTube and Snapchat accounts in an attempt to expose the fabricated reality behind social media modeling.
She re-captioned the posts she left up on Instagram to reveal the lengths she went through to make certain shots look perfect, yet spur-of-the-moment.
This change all seems to be in line with O'Neill's new website, Let's Be Game Changers, which so far consists of some personal blog posts, a lengthy info section, a community forum and a series of supplemental anti-modeling vlogs giving you a look into what exactly is going on in her mind as she aggressively steps away from the career she built.
In a video (which has since been deleted), she explained the business of social media, what it's like to work as a model in the field and what changes she made to get her to the point where she felt quitting was nothing short of mandatory to her wellbeing.
In the website's description, Essena spoke more about reasons she specifically quit modeling on social media.
She wrote,
I was miserable. Stuck. Uninspired. Angry. I didn't enjoy the act of creating art, writing or any forms of self expression like I once did as a child. When no one judged it, I created without limitation or filters. When it was for no one else but myself, I fell in love with it. And it loved me right back. It made me feel alive. It was like capturing and expressing real life, real feeling, real beauty -- it gave me this joy that I still can't explain. You know that feeling of inspiration, passion and purpose you get when you do something you just love? That's why I do what I do. I don't want approval anymore, it traps me into thinking I need more and more and more. I don't want to be liked or judged either. I want a place where I can give with no expectations or outcome. I don't want followers anymore. I want a world of individual beings.
Elsewhere on the site, she pleaded with the greater online community, writing,
PLEASE CAN SOMEONE MAKE A SOCIAL SHARING PLATFORM NOT BASED ON VALIDATION IN VIEWS/FOLLOWERS/LIKES BUT SHARED FOR REAL VALUE AND LOVE. THANK YOU. PLEASE HURRY UP.
We need more people like Essena.
Yes, the blogs and some of the YouTube videos do come across a little preachy and sound like a beautiful, blonde 19-year-old Howard Beale yelling, "I'M MAD AS HELL" into an iPhone 6S, but there needs to be change like this.
We're all with you, Essena! Get it, gurl!
Citations: 100 SHOTS, ONE DAY OF NOT EATING: WHAT HAPPENS WHEN YOU ACTUALLY SAY WHAT GOES INTO THE PERFECT BIKINI SELFIE? (Elle), INFORMATION IN 3 PARTS (Let's Be Game Changers)