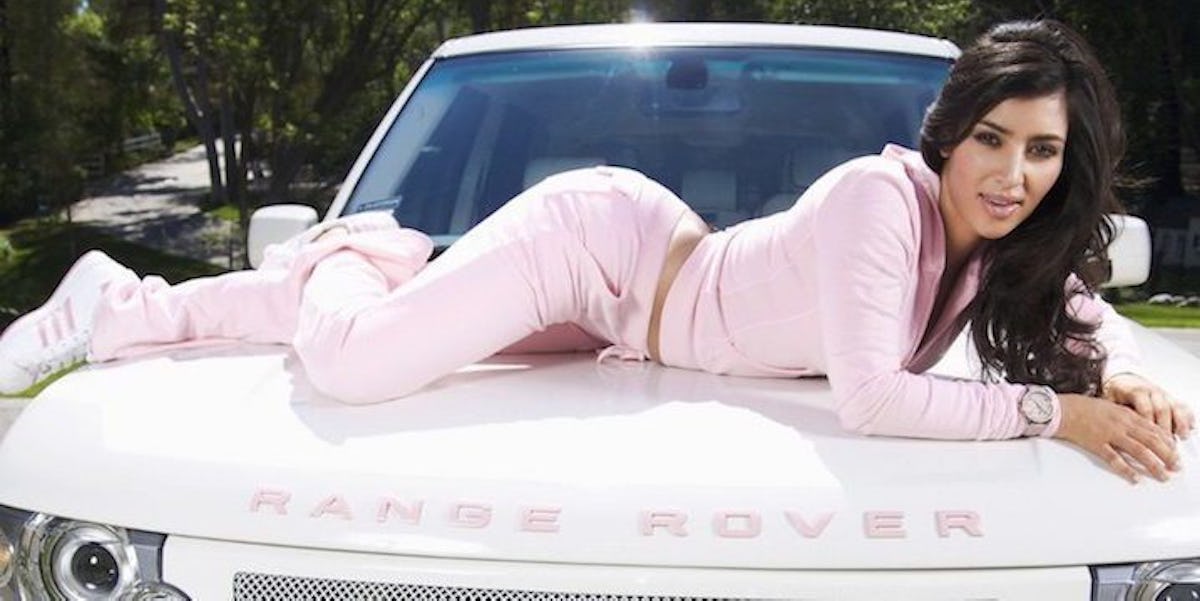 9 Tips For Rocking A Juicy Tracksuit Like The '00s Queen You Are
Confession: Not a day went by in the 2000s that I didn't rock my Juicy Couture tracksuit feeling like a complete and utter queen.
I had velour in every single color because... duh. Bedazzled was the shit, and also my middle name.
Juicy exuded total chicness at the time because everyone was irrevocably in love with it. NGL, my girl squad and I would walk down the street with our Juicy on like it was low-key our job.
There was nothing quite like hitting up the movies on the weekend like a girl boss in Juicy Couture. It's just how you did you.
If you were as obsessed with the fashion fad as I was, you sprinted down the stairs every Christmas morning, passionately hoping for boxes on boxes (on boxes) of Juicy tracksuits.
Kim Kardashian was one of the many celebs who rocked a Juicy tracksuit on the reg, in all of its prestige.
She's also been trying to bring them back, and I have the utmost respect for her in that regard.
And who can forget Paris Hilton's endless wardrobe of Juicy Couture?
If you couldn't tell by now, it's pretty clear I fucking LOVE Juicy tracksuits. My spirit animal wears one on a daily basis.
As one of the tracksuit's biggest fans, I've come up with nine tips for rocking it like the '00s queen you are:
1. Pair your tracksuit with a Starbucks cup and matching clutch purse for full effect.
Put on that Lip Smackers gloss, fly shades and tracksuit, and you're set to slay.
2. Confidence is key.
Rock your tracksuit like a total boss with #NoShame whatsoever.
You do you: That's all that really matters.
3. Know you're a trendsetter.
If you pull this off successfully, people will most likely follow suit because they'll love your look... even if they don't outwardly admit it.
Kylie Jenner had no shame flooding Instagram with her black bedazzled Juicy suit recently, and that's because it undeniably looked freaking awesome (and super cozy).
YAS, KING KYLIE.
4. Switch up your footwear.
Think outside the box when it comes to footwear, and don't be afraid to try new styles you haven't before in order to keep your Juicy look fresh.
Metallic Chuck Taylors, anyone?
5. "Choose Juicy" should be your motto.
Once a Juicy lover, always a Juicy lover. Stay true to your style.
6. Make that booty shine in its prime.
And show off that belly button ring, too.
7. When all is said and done, keep this in mind: Regina George's mom FTW.
That's all.
8. They're easy to dress up.
Pair your Juicy suit with those glitter sneakers, a glitter baseball cap and a choker, and you'll be looking oh-so-fine.
9. They're also easy to dress down.
The Juicy tracksuit is your prime companion to chill in, no matter whether you're relaxing at the house or running errands.
UGH. Now, I'm having the major itch to fill my wardrobe with a billion more Juicy tracksuits. The struggle (and Juicy addiction) is all too real for this chick over here.