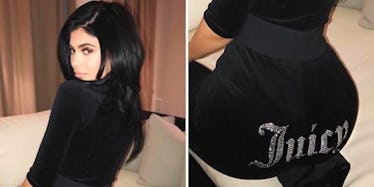 Sorry Kylie Jenner, The Juicy Couture Tracksuit Isn't Coming Back Any Time Soon
Like many of my fellow basic bitches, Juicy Couture tracksuits and Uggs served as the foundation of my wardrobe back in the 2000s.
While the reign of the velour tracksuit may not have been long, it was a monumental trend worn by everyone from teens and celebrities like Paris Hilton to mom's who desperately wanted to look cool.
Then again, you can't really blame people for loving this comfy couture; Juicy tracksuits brought out your best assets while making it completely acceptable to leave the house in a pair of sweatpants.
If you've been keeping a few of your favorite Juicy sweatpants secretly stashed underneath your bed with the hopes they may one day make a comeback as a retro trend, you might want to pay attention.
Yesterday, Kylie Jenner made us do a double take when she posted two back-to-back photos on Instagram that showed her derrière looking extra ~juicy~.
That's right, it appears Kylie is the latest celeb to jump back on the Juicy Couture bandwagon and show off a classic velour tracksuit complete with sparkly writing across the butt.
In the photos, Kylie looks absolutely flawless as she poses in a pair of black, high-waisted velour sweat pants that are bedazzled with the word "Juicy."
Over the past year, we've seen a variety of celebrities trying to revive this old-school tracksuit trend including Kim Kardashian and Eva Longoria.
So this leaves us with one very important question: Is the track officially back?
Despite finding their way into a few famous closets, the general consensus on this throwback style is still, unfortunately, a giant "no."
Yep, in a way, the Juicy Couture tracksuit is sort of like the word "fetch."
It's just never going to happen.
So I guess you can leave those velour ensembles under your bed for a little while longer because it appears you're not going to need them anytime soon.
Citations: Kylie Jenner Shows Off Her ASSets In Juicy Couture Sweats — But She Isn't The Only A-List Babe! (Perez Hilton)