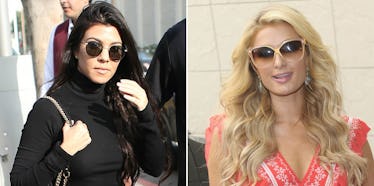 Kourtney K Went Shopping With Paris Hilton And We Have So Many Questions
REX/Shutterstock
Is it 2004 again?!
Over the weekend, Paris Hilton and Kim Kardashian reunited to celebrate the holidays at Kris Jenner's annual Christmas Eve party.
The two were best buds growing up, and Kim was even rumored to be Paris' little bitch.
Lol, yeah, the friendship was certainly interesting.
But Kim Kardashian and Paris Hilton proved their friendship is still going strong after spending an extravagant evening together.
Paris posted several photos on Twitter of her and her sister, Nicky, hanging out with the Kardashian family.
But it looks like Paris Hilton is trying to rekindle her relationship with another Kardashian sister.
The 35-year-old star was seen hanging out with Kourtney Kardashian in Aspen, Colorado on Wednesday.
The two ladies spent the day shopping for ski gear along with Scott Disick.
In the footage below, you can see Scott Disick standing in the corner while Kourtney Kardashian takes photos with fans. Poor Scott, lol.
The two also hit up several ski shops and shopped for winter coats. Paris Hilton isn't in the video clip, but like, she's probably trying on hats and scarves in the dressing room.
Classic Paris.
The blonde bombshell can take partial credit for giving Kim Kardashian her first big break. The mother of two first appeared on Paris' show, "The Simple Life," as her assistant.
Since then, Kim's popularity has exceeded Paris', so the two have been rumored to have obvious tension.
However, Kim Kardashian has clarified in several interviews she and Paris just simply grew apart.
And according to Paris, the media "blew things out of proportion."
So, it looks like all issues have been resolved.
Hmmm, could Paris be in an episode of "Keeping Up with the Kardashians" to bring things full circle? Will she play Kim's assistant and organize her closet?
Sorry, Paris. Don't kill me. It was just a suggestion.
Citations: Kourtney Kardashian and Paris Hilton (Daily Mail)