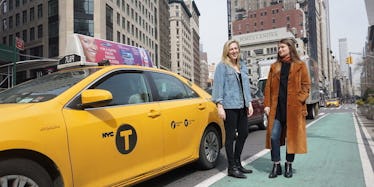 What To Wear When It's Winter, But Also Sort Of Spring
Kylah Benes-Trapp
It's the middle of April, and we're really f*cking done with winter weather.
We've packed up our down jackets, put away almost every single Madewell sweater and pushed the beat-up snow boots to the back of our closet.
The problem is, last week's weather forecast varied from 33 degrees to 71 degrees back to 62 degrees. These are the kind of temperatures in which we sweat in our pilled coats and can't bust out the seven off-the-shoulder tops we bought from H&M last week.
So, when you're trying to get dressed in the morning, but you're stuck with this "spring" weather, how are you even supposed to look cute?
Here at Editors' Closet, we're all too familiar with this struggle. But after several (mostly failed) attempts at trying to fit ruffled crop tops under layers of wool, we think we kind of got the hang of it.
Tanks under fitted jackets
Yeah, we know this is pretty #basic and obvious, but it works. When you start to perspire on the train and are able to take off a layer or two, you'll thank us.
Dresses over pants
Definitely took a little inspiration from our favorite Instagram blogger to stalk, Man Repeller. Now, the dress you got tired of last summer can finally feel like new.
(Yes, we both bought these dresses from Free People. Aly had a discount...)
Last few wears of the coat that got you through winter
You know you'll miss it when it's 90 degrees and layers are out of the question. The slightly heavier jacket gives you a little more freedom to wear open-toed shoes when the high is only 50 degrees.
Sneakers replace boots
If you've been following us, you know our winter shoe collection was a bit... limited.
After taking way too many pictures in the same Sam Edelman and Kenneth Cole black boots, we decided to just throw in the towel and wear sneakers. F*ck it.
Be sure to check out Editors' Closet on Instagram for more in-between weather fashion attempts and grammatically correct captions.