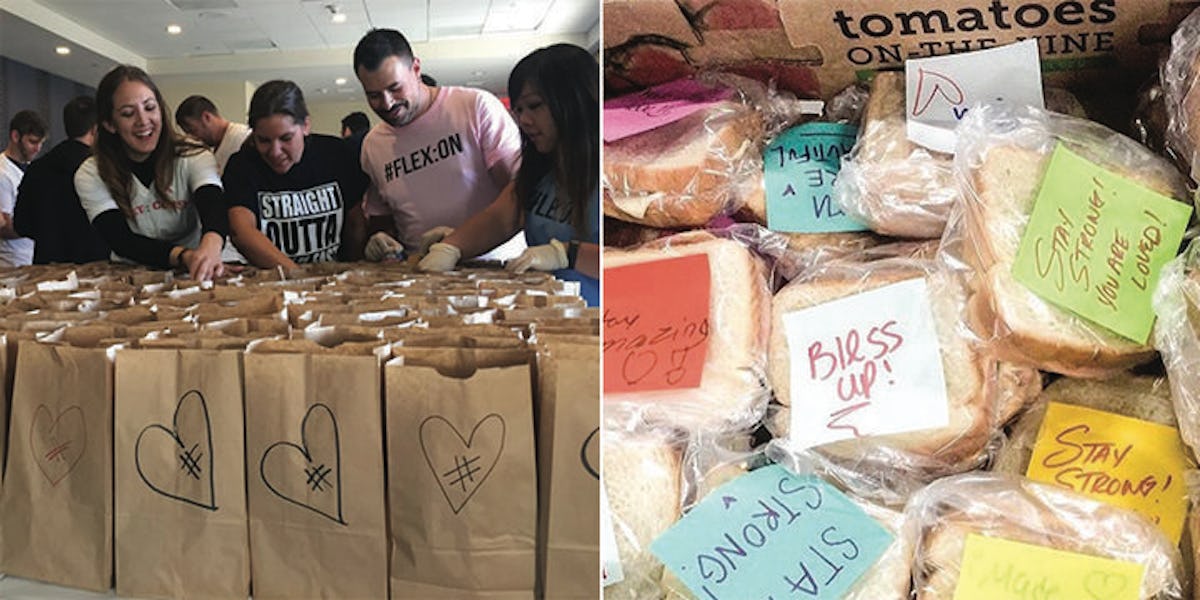 How You Should Be Giving Back This Season, Based On Your Personality
I'm topping Santa's naughty list for how much I didn't give back this year.
I wasn't always this way. In 2014, for example, I volunteered as a big sister to a troubled teen.
But, for past last 12 months, I've exhausted every excuse. Every week, I've either been too broke or too busy to volunteer.
When early morning community service projects come around, they interfere with my precious weekend sleep.
My excuses aren't justifiable, but being bewildered about giving back is. Many people feel the way I do.
Often, considering personality can be the perfect way to find your philanthropic fit.
Think about it. The more eager you are to volunteer with a charity, the more likely you are to return.
There's so much good in the world. Rather than watching others partake, be an integral part of the change you want to see.
If you're saddened by adults who've given up on their dreams.
Homeless Joe: Road To RecoveryHomeless man who survived by sleeping with women reveals what his life is like now. Posted by Elite Daily Video on Monday, May 18, 2015
What to do: The Future Project, a national nonprofit empowering young Americans through educational programs and initiatives.
If you hate Gen-Y, look no further than students full of endless possibilities and innocence.
These kids weren't raised on '90s boy bands and Nickelodeon, but they've got a pretty promising future.
How to help: Make a donation to the Future Project. The organization's Dream Directors create programs to help students reach their full potential.
If you hate when sticky kids try to touch you.
What to do: Volunteer with senior citizens.
Though you may have to repeat yourself every now and then, it's better than risking peanut butter fingers all over your vintage Chanel.
How to help: Volunteer at your local nursing home. Find the best opportunities in your area through Create The Good.
If you love interacting with new people.
What to do: #HashtagLunchbag, an organization that prepares bagged lunches for the hungry in local communities.
Through this program, you will be able to speak people from all walks of life. You'll not only feed the hungry, but you'll also learn about the struggles of others.
How to help: Grab a bunch of your BFFs, pack lunches and hand them out to people in need of a good meal.
Participate in a pre-existing #HashtagLunchbag project or start a new program in your community.
If you love spending your entire bank account on shoes.
What to do: Soles4Souls, a nonprofit dedicated to fighting poverty by donating shoes and clothing to underprivileged countries.
Make like Kim Kardashian this season and gift your footwear to people all over the world in need.
How to help: Soles4Souls believes every person deserves a good pair of shoes, so donate your gently worn kicks or make a cash contribution to the cause.
If you're all about girl power.
What to do: Tackle an issue that directly affects women by working with the Young Survival Coalition to help raise money and empower those affected by breast cancer.
How to help: Save the tatas by spending your money on more than just pink products every October.
Donations to the Young Survival Coalition will help educate women about breast cancer and set up community forums to bring families affected by the disease together.
If you hate animals that eat their own poop.
What to do: Save whales instead by working with the Save the Whales organization.
Whales are a lot like us. They prefer salmon to their own waste.
How to help: You can help sign petitions for Save the Whales in order to encourage preservation. You'll also help educate both children and adults about marine life.