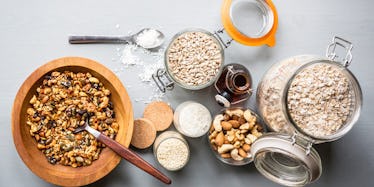 Weird Household Beauty Products That Are Actually Amazing For Your Skin
Rachel Dewis
I'm not a naturopath, but I do have some products in my home that I can safely say I've used on my face. (They're mostly hiding in my spice cupboard.)
And that's because as a late 20-something, I developed acne. My nasty zits always came right before I had an important day at work or before a date.
It was embarrassing, to say the least.
I was already stressed enough on the inside, and I didn't want to show people how stressed I was on the outside with more breakouts.
So, I decided to try a few home remedies, and they left my skin feeling softer and smoother than ever.
Here are seven weird household beauty products that are actually amazing for your skin:
1. Turmeric spices
This is probably one of my favorite weird household beauty products to use.
Turmeric has antibacterial products that can fight off acne and breakouts. Mix together a turmeric mask of turmeric powder combined with some lemon juice, and leave it on for 10 minutes.
Turmeric is also an anti-inflammatory agent that cleans and exfoliates dead skin.
2. Honey
Honey contains natural vitamins that will nourish your skin instead of a long list of unwanted ingredients on skincare labels.
It's a strong antibacterial that can even fight off methicillin-resistant staphylococcus aureus (MRSA). It's highly acidic pH traps the bacteria.
Honey's therapeutic properties can also heal wounds such as acne scars.
3. Lemon
If you have aging spots, freckles or unwanted tanned spots, then this product is for you.
Lemon is used to brighten the skin.
According to Women's Health, "Lemons are rich in Vitamin C and citric acid. Vitamin C is a great antioxidant for neutralizing free radicals and boosting collagen production."
Make sure the lemon juice you use it fresh and that you aren't exposed to the sun too soon after using lemon juice, as it may make your skin more sensitive.
It's recommended to dilute lemon juice with rose water.
If you have dandruff and can't get rid of it, you can also mix lemon with coconut oil to massage on your scalp and leave overnight.
4. Apple cider vinegar
Apple cider vinegar is good for diminishing fine lines and wrinkles.
Apple cider vinegar contains potassium, pectin, malic acid, calcium, acetic acid and Vitamins A, B1, B2, B6, C and E.
The Vitamin C can promote collagen production to make the skin look fresh and youthful.
5. Coconut oil
Coconut oil is the magic secret to getting young, beautiful looking skin.
Coconut oil can be used for dry skin and shaving your legs, and it even works as a cheekbone highlighter.
It also works as a deep conditioner that you can leave overnight or as a body scrub in the shower.
If you're running out of makeup remover and you can't find anything in the house, then use coconut oil to get that eye shadow and mascara off.
6. Neem powder
Named after the Neem tree, this powder works wonders.
These trees can be found in India, Sri Lanka, Bangladesh and Pakistan.
Neem powder was historically used in India for treating skin infections and boils, but it is also a great treatment for hair and oily skin.
Some people with psoriasis have also tried this product to remove the redness and itching they experience.
Neem leaves have also been used to treat ringworms, head lice and hair loss.
7. Tea tree oil
Tea tree oil is mostly used as an anti-fungal for things such as treating toe nail fungus and reducing cold sores.
A few drops of tea tree oil and witch hazel have been combined to leave you with better skin.
According to BodyEcology, these leaves were once boiled to treat cuts, wounds and skin infections.
You don't have to go to a fancy skin specialist to get a daily cleansing regime that works for you.
These simple beauty products found right in your home cannot only save you dollars, but they can also leave you feeling refreshed and looking youthful.