When it comes to Halloween, we're all about keeping things creative, colorful and, most importantly, quick!
Most of us don't have time to spend hours upon hours on Halloween costumes, so we've got a whole bunch of hacks in our costume tool belt.
Today's blast of hackery? Halloween hairstyles that complete your costume in a matter of minutes.
Each of these looks legit takes 10 minutes to pull off, as long as you've got the right key pieces.
Props to Brit + Co Creative Director Anj for lending her crazy mane of hair and gigantic eyeballs to create each of these 20 looks.
1. Cruella de Vil
This fierce villain oozes style, even if she is totally evil.
To create this look, straighten your hair. Then pull up two sections on either side of your head. Use a comb to frizz 'em up.
Then, use spray hair dye to cover half of your hair in white. Unlike in the photo above, we do NOT recommend keeping your mouth open while spraying the dye.
Top the look off with red gloves, a fur coat (or blanket, in this case), cigarette holder and little dalmatian. Oh, and that evil cackle is essential.
2. Rosie the Riveter
We can do it! This timeless tough girl always makes for a great costume.
Pin up half of your hair and twist it up in a bun. Then take the rest of your hair and create another bun a little lower on your head.
Top the look off with a red polka dot scarf, and you'll be riveting in no time.
3. Black Cat
This is pretty much every chick's backup costume, and you can really never go wrong.
For this look, we went with a super high fluffy ponytail. Smooth the top down with hair balm and top with cat ears.
We made ours by attaching black foam ears to a headband, but you can easily find a readymade option at just about any store this time of year.
Get the full Black Cat makeup tutorial right here.
4. Pink Lady
Give Rizzo a run for the money by rocking an ice cold attitude with your satin pink jacket.
Put your hair in a high side ponytail.
Then use a curler to create retro curls throughout. Cover the whole thing with hairspray and you're just about there.
We got this Pink Lady Jacket on Amazon, and it came with that awesome polka dot scarf!
Pink Lady Jacket, $16-19, Amazon 
5. Black Swan
Though we're missing the vacant bloodshot eyes and ghostly white face, this look still scares the daylights out of us.
The hair hack here is that slick top knot and the crowning tiara, though the key to the whole scene is obviously those crazy eyes.
We took a freestyle approach our makeup look, but there's a great tutorial right here for gals who want to go all out.
6. Vampire
Oh yes we did. Widow's peak made out of black eyeshadow? Comin' right up!
To set the scene, pull a headband onto your hair real tight. Resist the urge to puff it back to the front like it's the '90s.
Don a black lip and eye makeup. Then use that same eye makeup or black face paint to create a faux widow's peak. Spooky!
7. Clown
That's right. We did away with the curly red wig for this and went au natural.
Start the look by curling your hair like crazy. Curl every single piece, preferably using a teeny tiny ringlet curler, but sponge rollers would also work if you have more time.
Then use a comb to backcomb the dickens out of your mane.
Use bobby pins to pin it up to create even more volume, then keep on back combing until you have a full on pouf. Of course, you've gotta wear a red nose as well
8. Lady Gaga
It's been quite some time since Gaga donned her signature bow, but we'll never get enough of it.
With a few loops, smoothing balm and bobby pins, you can legit create this half up hair bow in minutes.
Head to our Hair Bow tutorial here for the full how-to.
9. Doll
Dolly up with this two-minute hair hack!
Cut a whole bunch of red (or any color) yarn that's double the length of your hair.
Place it on top of your head and spread out the strands so they run into your hair. Then pull your hair into two pigtails. Done, son!
10. Ghost Bride
Ghostly lips and a deathly gaze? Check and check.
Flat iron your hair as stick straight as you can get it. Then use flash tape to attach strips of white material along your part on both sides.
Find a creepy antique white dress and no ghost groom will ever be the same.
11. Princess Jasmine
Is it just me, or was Anj born to be Princess Jasmine? She should probably start moonlighting as a princess at Disney World in the near future.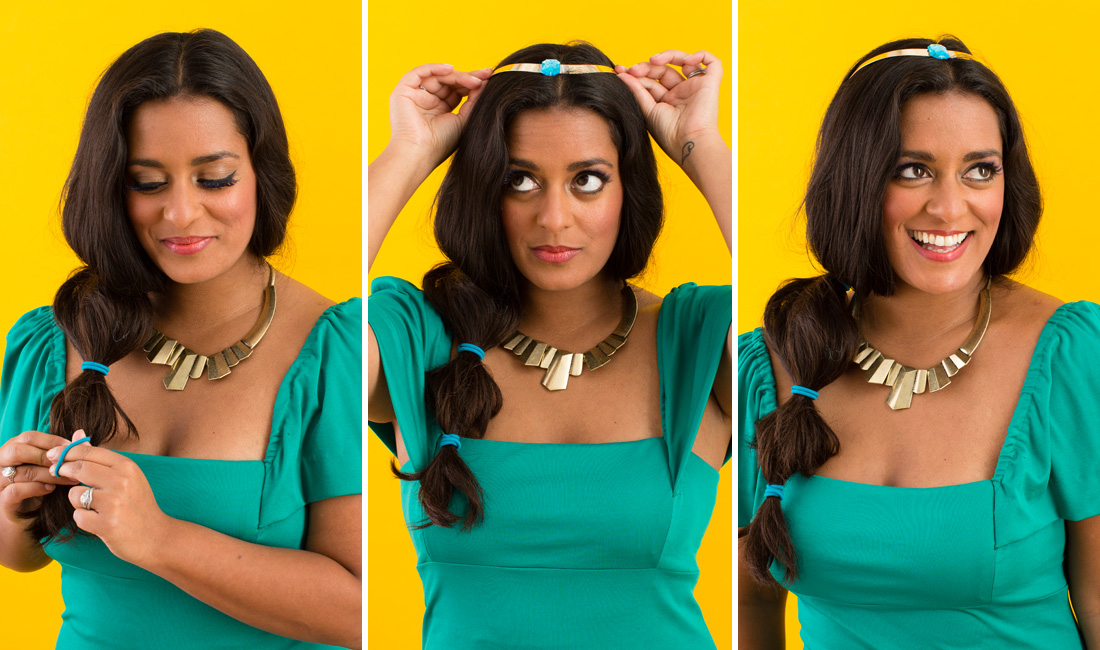 Start by parting your hair in the middle. Then bring it over to one side in a low ponytail.
Add two more elastics to section if off (sort of like this ponytail). Top your hair off with a crown, or a necklace that doubles as a crown and you're done.
12. Pippi Longstocking
Remember this chick? This nine-year old had superhuman strength, and completely insane pig tails.
Put your hair in pigtails and braid them up. Add pale pink ribbons at the top and the bottom of each braid.
Then cut a wire hanger and stick it right in each braid. Seriously.
Be careful that you don't poke your scalp, and bobby pin the end of the wire at the back of each braid.
13. Princess Leia
This timeless babe has the best buns ever…
Pull your hair into pigtails for this one as well. Unlike other pigtail styles, you want to place these closer to the front of your head than seems natural --- this will help the buns cover up your ears, Leia-style.
Braid them, roll into buns and pin with bobby pins. Now, if only we had a light saber!
14. Mermaid
Go under the sea with this enchanting mermaid look.
Use a wand to create waves throughout your hair. You want them to be pretty smooth, seeing as you're an underwater gal and all.
We used tulle to create the look of scales and attached them to a crown. If your hair gets tangly, feel free to employ a dinglehopper.
15. Hippie
More waves? Yes, please. This time, Anj is channeling her inner flower child.
Start by using a curling iron to create waves throughout your hair.
These ones don't need to be quite as consistent as the mermaid look because you want a more tousled style.
Keep hair parted in the center and create two small braids and pull them back. Top the look off with a daisy on your hair and you're good.
16. Witch
Wooooo, witchy woman! Especially with those purple lips!
Alright, one last curly look with those locks looking wild and witchy. Use a small curling iron to create curls randomly throughout your hair.
Then back comb to create volume. That's it!
17. Roaring '20s
The '20s are back, and so is our favorite hair hack: the Faux Bob!
Part your hair on the side and put in big glamorous curls. Back comb a bit and then pin the hair up to create the look of a bob.
For the full tutorial, head here. Once you're set on that front, add a little sequined trim as a headband and get ready to shimmy.
18. Pirate
Jack Sparrow's got nothing on this salty dog.
Create a fishtail side braid. Tie a red scarf around your head, put on an eyepatch and throw back a bottle of rum. Arrrr matey!
19. Lisa Turtle
Saved by the Bell's resident fashionista is a source of endless inspiration around Brit HQ.
We kind of think of this one as a hybrid between Lisa Turtle and Kelly Kapowski -- the volume and sunny attitude is all Kelly, and the incredible vest and gold lame mini dress has Lisa written all over it.
Pull your hair half up, back comb and pin. Add curls every which way.
Continue to back comb to create volume, but not so much that you lose your curls. #imsoexcited
20. Holly Golightly
And finally, the classic Audrey Hepburn look seems like a good way to close out.
Pin your hair up into a bun, leaving a small section at the front that you can turn into faux bangs.
Pin that hair in a way that mimics bangs that have been swept to the side.
Top with a tiara, a cup of coffee, a cigarette and sunnies.