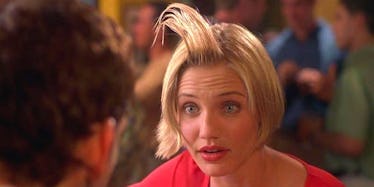 Be Your Fav 90s Character For Halloween Using The Clothes You Already Own
20th Century Fox
Halloween costumes are ridiculously expensive.
Fifty dollars will get you a few scraps of polyester, stitched together just enough to cover your chest and ass.
This Halloween, instead of buying some overpriced police-woman costume, try aiming for something more original and cost-effective.
After all, what's more convenient than making a costume out of the clothes hanging in your closet? Nothing. Absolutely nothing. And for ladies who love the 90s, consider this your lucky day.
Here's a guide to recreating your favorite 90s film characters by using the clothes you already own.
Julia Roberts, "Pretty Woman":
Nothing screams '90s gal' more than Julia Roberts in Pretty Woman.
To make this outfit, you're going to need a white crop top, high-waisted shorts, knee-high black boots and a red flannel shirt to tie around your waist. Pair the outfit with a silver cuff bracelet and black rope necklace.
Complete your look with a Julia Robert's smile.
Sarah Michelle Gellar, "Buffy The Vampire Slayer":
If you want to channel your inner 90s bad bitch, Buffy is the only way to do it. All you need is a black dress, knee-high socks, combat boots and cross choker necklace.
Who would have thought being a badass was so easy?
Brittany Murphy, "Clueless":
We all love "Clueless," but Cher is so overdone. There are so many fabulous outfits throughout this movie, it's a shame they've gone unnoticed.
If you want to rep "Clueless" the classic way, try out Tai's look from the dance scene. You'll need overall shorts, a pink, long sleeve crop top, silver combat boots, blue bandana for a headband and denim button down to tie around your waist.
Just make sure not to trip on your way out.
 Janet Jackson, "Poetic Justice":
With her long beautiful braids and quick sass, Janet Jackson absolutely slayed as Justice in "Poetic Justice."
If you want to be Justice, you'll need those standard 90s light-wash boyfriend jeans, navy fitted top, thick black belt, black combat boots, gold hoop earrings and black newsboy cap.
Some braids wouldn't hurt either.
Jennifer Love Hewitt, "Can't Hardly Wait":
If you've fantasized about being the ultimate high school crush, Jennifer Love Hewitt as Amanda in "Can't Hardly Wait" is the costume for you.
You're going to have to circle back for this one and find your old knee-length denim skirt, baby blue tank top and black strappy heels. Don't forget that matching baby blue watch, too.
 Jennifer Lopez, "Selena":
If you want to make a statement and you love to dance, "Selena" is the way to go.
Try this all-white-everything look to emulate the great singer. You'll need white denim pants, white cowboy boots, and white crop top bra. Pair with some simple white dangle earrings and a white belt.
You're ready to "Bidi Bidi Bom Bom" all night long.
Uma Thurman, "Pulp Fiction":
Like a shot of adrenaline straight to the heart, Mia Wallace never fails to get the party started.
Pair a white button down with black capri pants and some black loafers.
Voila! You're all set to cha cha.
Winona Ryder, "Beetlejuice":
If you've got a closet full of black, this costume is perfect for you.
Lydia is your classic 90s goth girl, so pair a black blazer with a midi skirt, knee high socks, combat boots and a circle hat. Don't forget the black eyeliner.
Regina King, "Boyz n the Hood":
This costume is the definition of chillin' at the party.
Put this outfit together with a pair of black overall shorts, white crop top, tall white socks and white Keds. Top it off with one large gold chain and a large pair of gold hoops.
40z suggested, but not included.
Drew Barrymore, "Scream":
Nothing says scream queen like Drew Barrymore in "Scream."
Grab a pair of mom jeans and pair with a white knit sweater and white Keds. Find a cordless phone if you're really dedicated to the look.
Rachael Leigh Cook, "She's All That":
Channel your inner Laney by pairing those overalls you bought last season with a black tank and blue flannel.
You won't need any other accessories besides some fake frames and a claw clip to complete the look. If you're feeling really dedicated, carry around a backpack and a canvas.
Winona Ryder, "Edward Scissorhands":
If you're looking to fulfill your ice queen dreams, look no further than Kim from Edward Scissorhands.
Pair a white crop top with a white midi skirt, white tights and white flats.
Nothing like bringing a little ice to the party.
 Liv Tyler, "Empire Records":
Liv Tyler plays Corey, a sassy, whiney and ironically adorable heartthrob, in "Empire Records."
To get this look, you'll need a blue pleated skirt, baby blue knitted sweater, combat boots and beaded necklace with a simple, centered charm.
 Christina Ricci, "The Addams Family":
Wednesday Addams is a classic Halloween costume you just can't go wrong with. Find a black dress with a white collar, black tights, combat boots and some black studs.
Snapping suggested.
Cameron Diaz, "There's Something About Mary":
If you're looking for an excuse to wear a sexy, red dress, Mary is your girl. All you need with your dress is a pair of red strappy heels and some extra-hold hairspray to achieve Mary's iconic look.