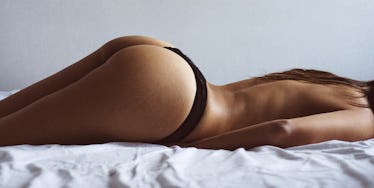 11 Reasons You Should Give The Gift Of Anal This Holiday Season
Ladies, come clean. How many times have you decided to gift your man sex for his birthday in lieu of an actual, physical present?
Every one of your hands should be up. If they aren't, you're either the Martha Stewart of gift shopping or you're still living in Edwardian England.
Sex is the best gift. You both get off, you aren't throwing down a small fortune on a fancy dinner and, most of all, it's fun.
Sure, you might opt to invest in some fancy lingerie or a toy. But, the amount of money you're throwing down will be so worthwhile. Just wait for the look on his face when you strut in with your Kiki de Montparnasse.
For this holiday season, take it one step further and offer him what he's probably spent the last six months begging for: anal. We've got plenty of reasons why the butt is the greatest gift you can give.
Because you already got him Ugg moccasins last year.
How many times has he actually worn them? Twice?
And how many times have you stolen them from him? 18?
Because anal is just too good a gift to be contained in a box or stocking.
The only box he should be opening is, well, you know.
Because anal is reserved for only the most special people.
You wouldn't go on a colon cleanse for just anyone.
Because he stuffed your stocking, so you'll let him stuff your hole.
It's only fair, right?
Because he really doesn't need another tie or a Vitamix.
Guaranteed usage upon receipt.
Because it's totally free.
We're not including the cost of lube or condoms. You probably have some lying around, anyway.
Because birth control is only 99 percent effective anyway.
Unless, of course, you want to surprise him with a present that will take him nine months to redeem and 18 years to return.
Because doggie-style is your favorite position, anyway.
It's a present for both of you.
Because you've always wanted to join the Back Door Betty club.
He's your ticket in.
Because now is the perfect time to use those black sheets you ordered from Amazon last Black Friday.
Unless you've always wanted brown sheets, that is.
Because it's more a gift for you than for him.
You're the one in control here.
Plus, I'm willing to bet he'll be your b*tch until next Christmas if all goes well.