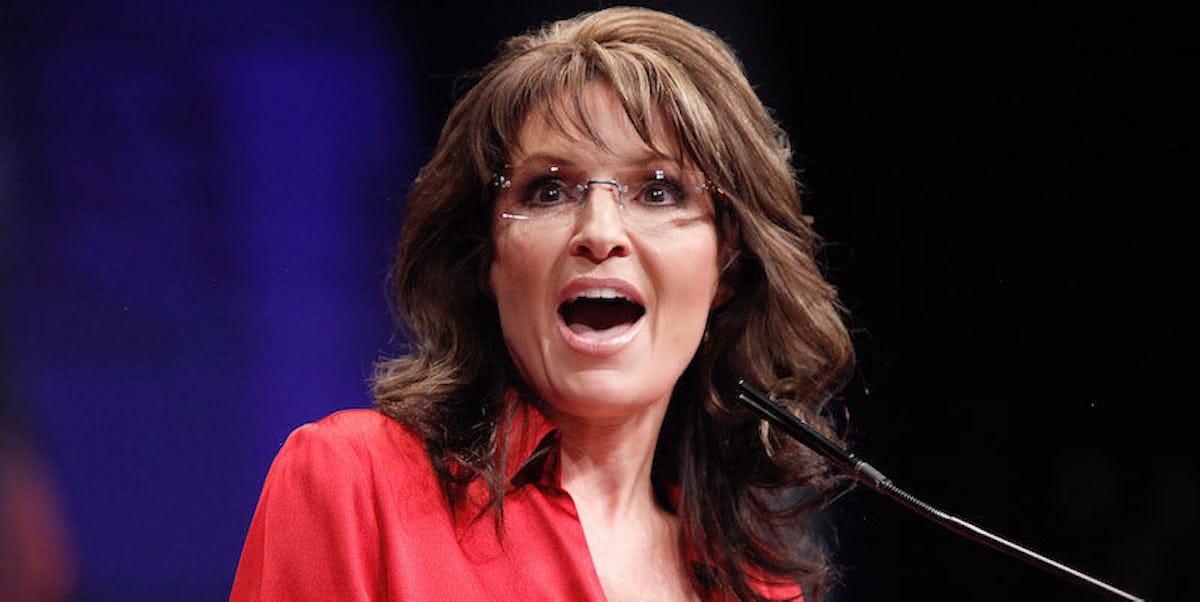 These Female Politicians Face Sexism In The Workplace Every Single Day
REX
Females who have roles in the government have a very tough job. Not only are they expected to prove that they are just as intelligent and worthy as their male colleagues, they also have to appear just right to the press.
If they show too much leg or cleavage, they will be labeled "sexy" and "slutty," but if they show too little, they will be called "harsh" or "barren."
Have men ever had to worry about their appearance being a factor of their political value? No, of course not. Unfortunately, these women were judged more for their assets than for their political achievements.
1. Sarah Palin - Former Governor of Alaska
When Sarah Palin decided to run for vice president alongside John McCain, the media didn't take her seriously for a minute. This was partially because of her crazy statements, such as that "waterboarding is how we'd baptize terrorists if I was in charge," but also because she is an attractive woman.
"Sarah Palin's Booty Is Out There!" was one popular headline.
2. Jackie Kennedy Onassis - Former US First Lady
First ladies have always been appreciated for their looks and their style, rather than for their actual accomplishments. Leading this tradition was Jackie Kennedy, who did, indeed, have impeccable beauty and style.
However, it is a little known fact that she was a reporter for the Washington Times-Herald, where she interviewed both Richard Nixon and wrote about the inauguration of Queen Elizabeth II.
3. Kirsten Gillibrand - Senator of New York
Senator Gillibrand is the second female senator of New York after Hillary, and yet much of the media surrounding her focuses on her appearance. At a fundraiser, 70-­year­-old Tea Party Member Senator Harry Reid praised Kirsten for her depth of knowledge about security laws, but he also couldn't help mentioning that she is the "hottest member" of Senate.
Ew.
4. Belinda Stronach - Canadian Parliament Member
Belinda is an impressive business woman, philanthropist and politician. She even started a charitable foundation, which supports the development of women and healthcare. Yet, many articles have been written about her shiny blonde hair and lean body, one article even comparing her looks to Paris Hilton.
5. Carly Fiorina - Former US Presidential Candidate
Carly Fiorina acknowledged that sexism is a large dilemma in her campaign. "I've been dealing with [sexism] all my life," Fiorina said, after an interviewer commented on her pink nail polish. "You choose to confront," Fiorina said, "and sometimes you choose to ignore it and just keep going."
6. Liz Kendall - British Parliament Candidate
Liz Kendall, who is running for the Labor Party, has has plenty of sexist bullsh*t written about her. She has been critiqued for being single and having no children.
However, when faced directly with sexism, Kendall doesn't take any sh*t. When a reporter tried to ask her about her weight, she told him to "f*ck off."
7. Hillary Clinton - US Presidential Candidate
A list of Hillary's accomplishment could fill up pages and pages of articles, yet full articles have been written solely about her hairstyles.
USA Today featured a piece called, "Hillary's Headbands: Zippy or Just Dippy?" A reporter wrote that her new highlights are apparently a sign of imminent victory, and there has been speculation about whether or not she wears a wig.
However, Hillary has stated that she doesn't care what the media thinks. "I feel so relieved to be at the stage I'm at in my life right now," she said on CNN. "If I want to wear my glasses, I'm wearing my glasses. If I want to pull my hair back, I'm pulling my hair back."
8. Grace Coolidge­ - Former US First Lady
Grace was an important lady in society, and her husband Calvin loved this about her. Bland and nerdy himself, Calvin dressed Grace in bold, flapper dresses and enjoyed displaying her on his arm." She was vivacious, the camera loved her," Corman O'Brien wrote of her in his book, "Secret Lives of the First Ladies."
Aside from her fashion sense, Grace also worked with organizations such as Red Cross and wrote for several magazines.
9. Erika Harold ­- Former Illinois Congress Candidate
When 2003's Miss America decided to run for state congress, the majority of news attention she got was about her great bikini body, rather than the fact that she was previously an attorney.
In fact, much of the Republican Party did not support her; one man even called her a "streetwalker." Needless to say, she did not get elected.
10. Orly Levy - Israeli Parliament
Former member of the Israeli Air Force, model and TV host, Orly has achieved a lot in her lifetime. However, she is listed in many articles as one of the "hottest politicians." What hasn't made headlines is the fact she passed legislation that preventions sexual offenders to work at institutions, such as schools and hospitals.
11. Michelle Obama - US First Lady
When Obama was running for president, what was Michelle Obama most known for? Not the fact that she is a graduate of Harvard Law School, but for her muscular arms.
As first lady, Michelle has developed a mentorship program for young girls and "Let's Move," which encourages children to exercise. Yet, more articles have been written about the fitness program she uses than these successes.
12. Cécile Duflot ­- French Parliament
As a member of the Green Party, Duflot once swam in the Seine to make a statement about river pollution. She is clearly much more than just a beautiful face. However, when she spoke at the National Assembly about urban planning, she received wolf whistles and "ahhs" for wearing a simple floral dress.
13. Elizabeth Halseth - Former Nevada Senate Member
Halseth served as Nebraska Senator for two years, but then resigned while having a public divorce with husband, who she accused of sexually assaulting her.
After leaving the Senate, she was unable to get a job in Nevada (although she did pose for Maxim Magazine). She said this was because she was being "regularly demonized by selfish partisans and a handful of reckless bloggers with personal agendas of salacious, unfounded personal attacks on me."
Clearly, Nevadans could not handle having a strong, sexy woman as their senator.
14. Eva Kaili - Greek Parliament Member
A former TV news presenter, Eva Kaili, has always been judged by her appearance. She was previously named the "Hottest Newscaster," and now is considered one of the "Hottest Female Politicians."
However, she should also be recognized for her impressive accomplishments, such as being nominated for the MEP Award for her research and innovation as a member of parliament.
15. Helle Thorning­-Schmidt ­- Former Prime Minister of Denmark
Helle is a very accomplished woman; she was the first woman to be prime minister of Denmark, and now is the chief executive of Save The Children. However, when she visited America, the only thing the press talked about was her apparent flirtation with President Obama (and Michelle's jealous face).
16. Michele Bachmann - Former US Representative
Michele Bachmann ran in the 2012 election for the Republican position. The Tea Party candidate has made headlines for her ultra­-conservative viewpoints, such as that being gay is "a part of Satan."
However, she has also made headlines for her "lean legs."