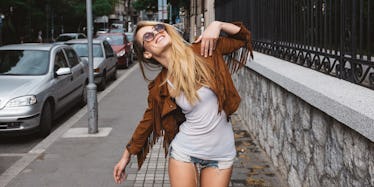 What To Wear When You're Craving Fall Fashion But It's Still 90 Degrees
It happens every year: We beg for summer to rid us of winter's chill and spring's torrential rain, but as soon as temperatures spike above 90 degrees, it's as if autumn can't come fast enough.
Though fall is slightly shorter than its fellow equinox and solstices, thoughts of wearing soft, warm, thick fabrics hijack our desire to throw on short sleeves and sandals.
Whether its approach is made more apparent by Starbucks Pumpkin Spice Latte (now with real pumpkin!) promo or your fav shop's racks filling up with fall-ready threads, our sartorial clocks helplessly yearn for heavier threads with each passing day.
And tweeters are constantly confirming it so we know it's real:
AUTUMN IS COMING!!!!!! COLD IS COMING!!!! CRUNCHING LEAVES!!! INDIE MUSIC!!!!!! ACTUALLY BEING ABLE TO DRINK HOT DRINKS!!! MEN IN JEANS!!!!! — Dani Cimorelli (@DaniCim) August 19, 2015
Rocking insulated layers may sound nuttier than celebrating a home-wrecker, and will probably garner a couple side-eyes.
But here's a life hack: Wear whatever the hell you want.
Need visual advice?
Here are a few ways to feed your fall fashion addiction while summer temps are still on fleek.
Denim Chambray Shirt
Don't confuse this closet staple with all-American denim. Chambray is a lighter, more contemporary version of its quality counterpart.
Throw it on with a pair of cropped pants (print optional) and keep your shoe game open. This fit will prove to be cool while still packing on enough warmth in case of any lingering light, autumn breezes.
Fall Jacket
While you definitely need a jacket indoors these days, wearing one on a blazing, breeze-less day seems silly. However, keeping the rest of your ensemble simple and light is key.
Pull a lightweight parka over denim shorts and a basic tee to soothe summer temps and curb your fall fashion cravings.
Pro tip: When you start to heat up, tie it around your waist.
Long-Sleeved Body Suit
This piece is a year-round must-have, but snatch up long-sleeved bodysuits to inch closer to your fav season.
Opt for boyfriend shorts if you're over short-short lengths and step out in open-toed sandals. Play up colors and prints to bring your bodysuit's minimalistic beauty and your personal style center stage.
Suede Skirts
Looking for out-of-season fabrics? Suede is an ideal fix.
Step out in a short or long suede skirt to both welcome fall and acknowledge those sky-high temps. Pair it with a light-colored blouse and law sandals to get your skin cool.
Remember, start swapping out bright colors for more autumn-ready hues.
Ankle Boots
Don't be shocked: Like the color black, boots are always in.
Take your normal summer t-shirt dress up a notch by chucking your sandals and pairing the look with high-rise shoes. Don't forget to rock prints so earth-toned it's a silent ode to the forthcoming season.
Channel your inner Beyoncé and toss on a hat for shade.