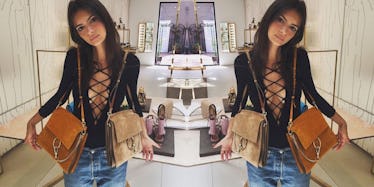 Bodysuits Are The New Staple Piece: Here Are 6 Ways To Wear Them
Here's a confession: We've gone bodysuit, and we can't go back.
Once relegated to ballet studios, the leotard has since seen a complete rebirth. With its sleek profile, comfy give and soft fabric, the bodysuit is simultaneously sexy and conservative.
Sure, you may have to unsnap the crotch to pee -- it's a skill you have to learn -- but who said looking good was ever easy?
The bodysuit is the cure for blouses that won't tuck in comfortably and t-shirts too boxy for our frames.
Although we love the bodysuit for festival wear, there are plenty of other ways to make it work for your regular lifestyle.
You don't have to be an 18-year-old in a Coachella flower crown to rock 2015's leotard.
As a general principle, consider the where you're headed when choosing the rest of you outfit. If you wearing a lace leotard to wedding, aim for a skirt with a little volume to even out the look.
Once you master this balancing act, the bodysuit can go almost anywhere you do.
Stay demure in a corporate office.
Usually, there's nothing like a dress code to put a damper on sartorial creativity.
With the help of an artfully draped bodysuit, however, you can exchange the extra bulky fabric of a button down for a silhouette that's more Jane Russell than Katharine Hepburn.
Pair the suit with a lacy bralette to ensure the neckline doesn't reveal too much and a printed pencil skirt. Voila, you're boardroom ready.
Exercise your leotard creativity in a casual work space.
There's a reason everyone pines to get into the startup space: Dressing any way you choose is incredibly fulfilling.
However, that doesn't mean giving up on professionalism in favor of personal taste. Get the best of both worlds by pairing trendy silhouettes like culottes and mules with a brightly colored bodysuit.
You may be stylish, but you're also still put together.
Stay timeless during a date with a simple bodysuit.
In 2015's dating scene, the days of identical curling iron ringlets and bedazzled dresses have become ghosts of the millennium past.
Instead, opt for a laid back look that's timeless. A black, mock turtleneck bodysuit pairs well with oversized boyfriend jeans and delicate gold hoops.
Your date of choice will be impressed by your classic style, not distracted by it.
Try a monochrome look on a night out.
Whether you're frequenting your favorite dive bar or on the hunt to meet a potential partner, make sure the attention stays on your face during weekend nights out.
With that in mind, try a monochromatic ensemble to ensure the look doesn't outshine your over-the-top makeup.
Pair a pale pink halter suit with cutoffs in the same shade, gluing on falsies for maximum flutter when you're chatting a cute stranger up. The best kind of style always looks effortless.
Wear a one piece with sass during the weekend.
Weekends are best used for sneaking in afternoon naps, sharing lengthy meals with friends and expressing personality in a way you can't necessarily do during your 9 to 5.
Use your Saturday afternoon to break out a cheeky bodysuit that's NSFW, tempering it with light-wash overalls and geek-chic sandals.
The slogan will make your friends smile while you stay comfy.
A sporty bodysuit keeps you focused during class.
We're not about to recommend you pull on a sporty leotard to sprint a marathon, but for weight training, yoga classes and ballet, a bodysuit makes a lot of sense.
You'll never have to stop mid-downward dog to tuck in your shirt, or worry you're showing a little too much skin.
Keep your attention on the workout, and tune out everything else.