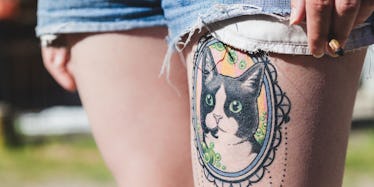 How To Finally End Your Uncomfortable Inner Thigh Chafing For Under $10
My thighs like to get cozy.
By cozy, I mean they like to rub against one another and literally burn my skin from the inside out. You know what's not cute? When you finally bust out the booty shorts for the first time all year and your inner thighs start bleeding from hugging each other all day.
Thigh chafing (or chub rub, if you want to get cute) is an unfortunate reality for anyone that doesn't have a natural thigh gap (so, like, almost everyone). And seeing as I plan on wearing things that leave my thighs uncovered, it's something I'm seriously concerned about.
Last year, I went through an entire jar of baby powder just to keep my thighs from killing each other and, after the scorcher of a Memorial Day weekend we had in New York, I'm willing to bet this summer will be even worse.
You don't have to put on a pair of shorts or run out and splurge on a fancy cream to keep your thighs apart. In fact, I'm willing to bet you have everything on this list in your pantry already. Don't believe me? Keep reading.
Monistat Soothing Care Chafing Relief Gel, $9, Amazon
OK, can we talk about how Monistat (oh yes, that Monistat) is the low-key OG of the beauty world? It's apparently a holy grail for hair growth and makes a surprisingly good primer.
It's also a miracle cure for your chub rub.
The Chafing Gel is actually made for combating the redness and friction after a bikini shave or wax. It also works to neutralize your inner thigh rub during a hot day spent walking around.
Dove Go Fresh Antiperspirant Deodorant (Pack of 2), $12, Amazon
If it's good enough for Amy Schumer's red carpet chub rub, it's good enough for me.
Although, it might be kind of weird if your deodorant leaves white marks on your thighs. Actually, scratch that, a lot weird. Maybe stick to the gel kind?
Bourdreaux's Butt Paste, $7-16, Amazon
Once you get past the name, this cream is actually the best.
Formulated for babies with diaper rash, this stuff is gentle enough to use on your sensitive inner thigh skin. It'll also really weird out anyone who dares go through your purse, which is reason enough to always stash a tube in your clutch.
Nature's Organics Extra Virgin Coconut Oil, $10, Amazon
I've never actually tried this, but the Internet is convinced it's great for chub rub. I mean, coconut oil is good for virtually everything else, so it only makes sense.
My only concern with this is that it will melt off or get sticky throughout the day. And let's face it, the only thing worse than two thighs rubbing together are two sticky thighs rubbing together.
Johnson's Baby Powder, $9, Amazon
Coconut oil might have a rep as a jack of all trades, but I'm all about the magic of baby powder. I use it all over my body: on my roots when they're oily, my under-boob area when they start to chafe, on my feet. It also rocks for your thigh chafe.
Seriously, it works so well I buy it in bulk.