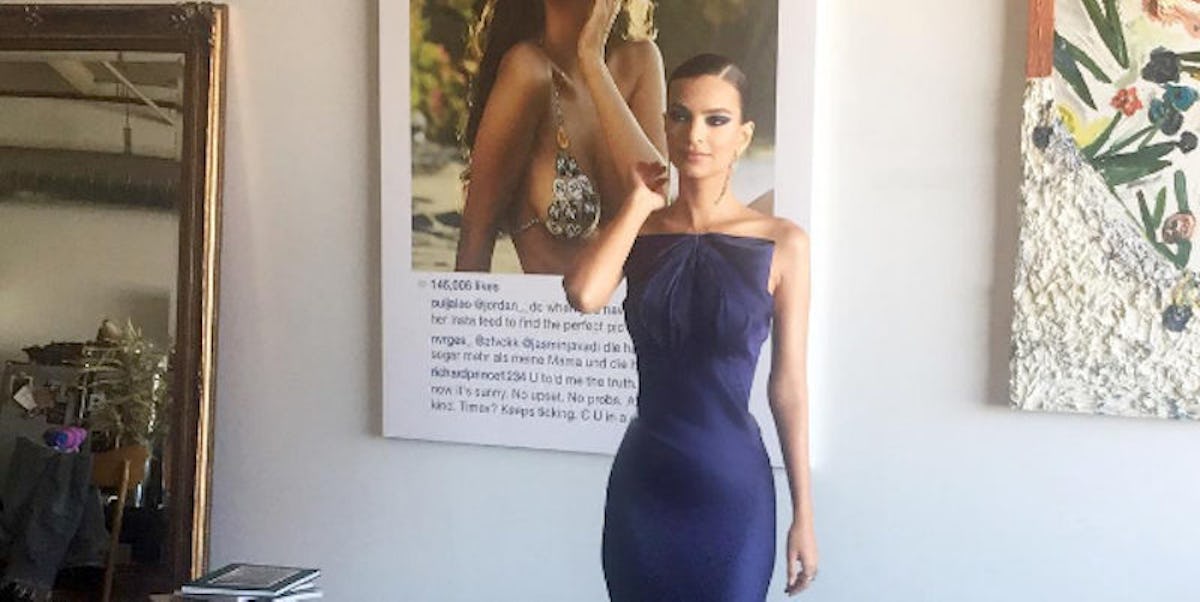 Emily Ratajkowski Has A Huge Copy Of Her Own Instagram On Her Wall, Just FYI
Ah, sweet narcissism. In Hollywood, it's practically an industry in itself.
So many celebrities pluck, laser and fill themselves in an attempt to look perfect (ahem, my girl Kim Kardashian). And while every lady has a right to feel her best, for some, the study of themselves is basically an art form.
Take, for example, model Emily Ratajkowski.
For some time, I've been looking for an excuse to talk about the fact that she appears to have hung a giant canvas of her own Instagram in her apartment.
Instead of continuing to share my revelation in hushed whispers at bars (mostly because nobody else cares as much as I do), I wanted to blast it out to the world.
Thanks to the 2016 Emmy Awards, I finally got my opportunity. Date (and dress designer) Zac Posen took a photo of Ratajkowski standing smack dab in front of it. Surely, the positioning wasn't a coincidence.
The offending image — just kidding, it's actually as gorgeous as all the other images of the bronzed beauty — appears to be an enlarged copy of her 2014 Sports Illustrated swimsuit shoot, with a bikini that's been literally painted on.
Ratajkowski, who famously collects art as a hobby, hasn't confirmed where the oversized painting came from.
It's likely the work of Richard Prince, the artist who caused an uproar after enlarging others' Instagram posts and selling them as art. Model Lara Stone got the Prince treatment, along with Lime Crime founder Doe Deere.
This isn't Ratajkowski's first tango with meta-narcissism, either. She's been known to wear her own face on her shirt.
Can you imagine eating every meal while staring a photo of yourself directly in the face? And not even a normal picture, but a copy of an edited Instagram with likes included. (It's gained about 10,000 since then, however.)
That can't be healthy for someone's self-image.
Then again, when I'm a wrinkly 90-year-old, there's a good chance I'll hang a photo of my body's glory days on the wall too. Why not?