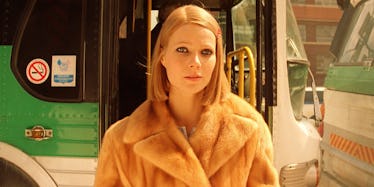 15 Simple Last-Minute Halloween Costumes You Can Put Together At Home
Touchstone Pictures
Let's picture this scenario for a moment.
It's Saturday night and against your better judgment, you've just RSVP'd to a Halloween party thrown by your cute coworker. Problem is, you never bothered to buy a costume because after the age of 22 this spooky, slutty day has pretty much run its course.
If you're anything like me, you'd rather be courted by Frankenstein than ever brave the lines of Party City on Halloween. If you're ready to call it all off and retreat to bed with a bucket of Twix and some Netflix, stop right there.
Believe it or not, sometimes the most creative costumes actually lay buried in the archives of your closet. In fact, all it takes to complete an amazing outfit is the right dress and some perfectly curated accessories.
So if you're freaking out over last-minute costume trouble, take a few cues from the examples below. From pop culture queens to beloved childhood heroes, here are some costumes you can literally throw together in 10 minutes.
Margot Tenenbaum
Every girl has a little bit of this quirky, no bullsh*t icon in her. Please, just don't screw your adopted brother.
What you'll need: Striped top or dress, fur coat, red hair clip, cigarette holder or small pouch.
Elsa
Melt every heart at the party with your sweet, glittery charms. Try this makeup tutorial to clinch the look.
What you'll need: Blue dress, sparkly shoes, glitter nail polish. Snowflake accessories optional.
Annie Hall
Well, la di da, don't you look cute. La la.
What you'll need: White button down, vest, a men's tie, cargo pants, wide-brim hat.
Daphne from "Scooby Doo"
This was my costume last year, so I'm biased. But this look will definitely get your Freddy all riled up this Halloween. For an easy DIY, head to a fabric store and buy some cheap purple and green ribbon for your headband and scarf.
What you'll need: Purple dress, green scarf, purple headband, pink tights.
Kim Kardashian circa 2008
OMG. This is like, the cutest bandage dress ever. Who cares if you can't breathe? You're making a sexy statement.
What you'll need: Bandage dress, kitten heels, hoop earrings, shiny clutch bag.
Zombie Bride
The ultimate classic scary costume. All you need is a cheap white dress, a tiara and some splatters of blood. Also, don't be afraid to rock a seriously smokey eye.
What you'll need: Fake blood, white dress, tiara, smokey eye makeup. Veil and black nail polish are optional.
Carrie Bradshaw
Let's just say it, it's the naked dress. Dig through your dress collection and see if you can find a nude slipdress you could pair wth a faux fur coat. Don't forget to bring a martini glass to the party so you can sip your jungle juice in style.
What you'll need: Nude slip dress, fur coat, martini glass, curling iron for SJP's signature ringlets.
Eloise at the Plaza
Getting in trouble never looked so effortless. If you're a sweet girl with a knack for causing trouble, Eloise is your girl.
What you'll need: Black shorteralls, white top, pink headband, black Mary Janes, white socks.
Mia Wallace
A mysterious smile, perfect brows and a shot of adrenaline to the heart are all it took for us to fall in love with "Pulp Fiction" darling Mia Wallace. Her look just may be the easiest to recreate, too.
What you'll need: White button-down, black pants, cigarettes, red lipstick, fake blood to simulate adrenaline shot.
Rosie the Riveter
Seeing Beyonce rock this costume is already reason enough to recreate it, but Rosie the Riveter is a badass. Also, with the 70s trend in full swing this season, it shouldn't be hard to find a denim one piece lying around.
What you'll need: Denim jumpsuit, red bandana and lipstick, brown boots.
Daisy Duke
This costume makes us nostalgic for a time when Jessica Simpson wore Juicy Couture tracksuits and ate tuna thinking it was chicken. If you are a hoarder like me, you probably have a pair of cowboy boots buried in your closet since 2007.
What you'll need: Cutoff denim shorts, plaid shirt, cowboy boots.
Mary Poppins
So you want to be the chicest nanny in town? It's as easy as a spoonful of sugar.
What you'll need: Black skirt, blue blazer, white ruffled shirt, red bowtie or scarf, black bowler hat, umbrella.
Bank Robber
The bank robber is the reigning queen of easy costumes. I don't know a woman alive who does not have a striped shirt in her closet.
What you'll need: black and white striped shirt, black pants, white tote bag, black gloves. Mask optional.
Minnie Mouse
Once again, a crowd favorite. Minnie Mouse reminds people of adorable childhood memories. Plus, any excuse to rock mouse ears is a win for me.
What you'll need: red skirt, black top, mouse ears, red lipstick.
Black Swan
I know what you're thinking, this costume is very 2010. But honestly, when you're in a pinch and all you can find is your sister's ballet tutu and strappy tank top, it works.
What you'll need: Black tutu or puffy skirt, black leotard or strappy cami, black ballet flats, fierce smokey eye. Tiara beanie optional.