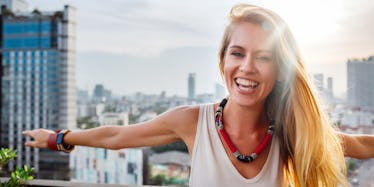 It Can Happen To Anyone: Drawings Show Disney Princesses As Domestic Violence Victims
Stocksy
Disney princesses have not had it easy as of late. First, their images were used to raise awareness for sexual assault at the hands of family members and friends. Now, a new campaign has emerged using the pictures of bloodied and bruised characters to highlight the prevalence of domestic violence.
The tagline for Saint Hoax's newest series, "Happily Never After," is: "when did he stop treating you like a princess?"
While it's difficult to see some of our favorite childhood princesses all beaten up, the images definitely grab the attention of the viewers, and force them to recognize how widespread the issue of domestic violence is.
Saint Hoax said that increasing awareness about violence against women was his intended goal, and that these disturbing interpretations of abused Disney princesses was necessary to help viewers relate.
By portraying Disney princesses as victims of domestic violence, I'm proposing the idea that no girl/woman is safe from being emotionally/physically/sexually abused.
The posters also write that it's "never too late to put an end to it," encouraging women who have been abused to seek help and immediately remove themselves from the bad relationship.
For More of Saint Hoax's work, click here
via The Huffington Post, Photos Courtesy: Saint Hoax