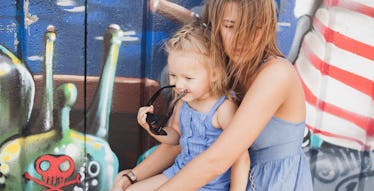 Artist Uses Disney Princesses For Shocking Campaign Aimed At Raising Rape Awareness (Photos)
Stocksy
Plenty of people have talked about the Disney princesses — who largely embody super-skinny female stereotypes for each of their characters — getting a more realistic makeover, but the following probably weren't what those people expected or had in mind.
Instead, one artist is using the princesses we all grew up with as part of a larger campaign to raise awareness for the issue of rape.
On the already thought-provoking website Saint Hoax, images were uploaded showing our very familiar Disney princesses in horrible situations — like being forced to kiss a villainous man (or, in the case of Ariel the mermaid, her own father).
Each poster includes a sad statistic on rape, such as "46 percent of minors who are raped are victims of family members."
On her website, the artist said this project was meant to be,
An awareness campaign targeting minors who have been subject to sexual abuse by a family member. The aim of the poster series is to encourage victims to report their cases in order for the authorities to prevent it from happening again.
This series certainly has our attention, so hopefully it will similarly educate others about the prevalence of sexual assault, and the resources that can be provided to those who find themselves in these horrific situations.
H/T: Jezebel, Photos Courtesy: Saint Hoax