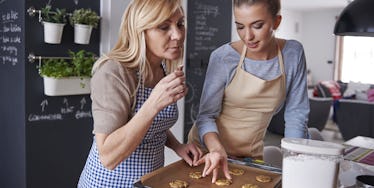 Why Cooking With Your Mom Will Always Be The Best Part Of Thanksgiving
Thanksgiving is a time for drinking five glasses of Malbec, eating way too much stuffing and wearing the most comfortable elastic waistband pants Lululemon can offer.
It's also a time when you strap on that apron and get to business in the kitchen. Better watch your back, because your mom is the one chef who can out-yell Gordon Ramsay on his best day.
Cooking with her is a time-honored Thanksgiving tradition. For better or worse, every year brings amazing smells, hilarious mom jokes and slightly awkward conversations.
By the end of your 6-hour cooking marathon, you're left with an incredible feast and treasured mother-daughter memories.
1. It reminds you of the first time you were responsible for not screwing something up.
Can you remember the first time your mom gave you full responsibility for a Thanksgiving dish? If you'd f*cked that up, there would have been hell to pay.
2. It was the first time you learned your mom was pretty badass at your age.
The best part of cooking with Mom is pestering her with questions about her life at your age.
Apparently, you both got a bit experimental during freshman year of college.
3. It was the first tradition she passed down to you from her own mother.
I come from a family of Moroccan Jews. Every single dish my mom and her four sisters make has been passed down through generations.
When my mom first taught me how to make spicy Moroccan sauce, I knew she was thinking about her mom passing the recipe down to her.
Every ingredient tells a story and brings her back to a beloved childhood memory.
4. It's your chance to discover all the "secret ingredients" she kept from you as a child.
Bet you never knew your mom added grated zucchini, carrots and broccoli to your favorite childhood lasagna. She had to get your veggies in somehow.
The more you know, right?
5. You remember Thanksgiving means something extremely different to your immigrant parents.
For you, Thanksgiving is a time for stuffing your face with sweet potatoes and pumpkin pie. For your mom, it's a time to remember how difficult it was to leave her family and move to America with limited funds. She did it all to make a better life for her children.
You will probably never understand how hard she struggled, but the look on her face gives you an idea.
6. It reminds you of a time you thought your mom was invincible.
When my mom's in Thanksgiving cooking mode, she slays. Her organization skills are on another level.
You know your mom is the boss when she juggles five main dishes, three specialty cocktails and at least four drunken family members.
7. You'll master the spectacular visual experience that is the swan napkin.
Your table setting game is the stuff of Emily Post's dreams. Your mom made you sit down and master that swan napkin for hours until it was just right.
Now, you can do it in your sleep.
8. You realize your mom doesn't give a sh*t about the 5-second rule.
So what if the apple slices for the pie accidently hit the floor? Just wash those suckers and move on.
Nothing to see here.
9. Drunk, cooking moms will always be the best kind.
After age 18, you're pretty much cleared for chugging wine while you cook. Don't be afraid to keep your mom's wine glass flowing, either.
Drunk convos are always the juiciest.
10. For the first time, your mom is your friend.
Between starting college and celebrating Thanksgiving, you somehow snap out of the entitled teenage brat phase and start seeing your mom as an actual human being.
Those first conversations post-adolescence are like a breath of fresh air. You two can laugh and converse together in the kitchen.
It's magical.
11. You start to see yourself as a mother one day.
Laughing and reminiscing with your mom in the kitchen makes you yearn to create those same memories with your daughter.
Right now, you may be more focused on solidifying your lady boss status. One day, however, you know you will make room for a future family.
12. It's one of the only times you get to feel like a kid again.
Did you lick the spoon? Have you stirred the gravy enough? Why are you wearing so much makeup? Who wears leggings to a nice family dinner?
The questions are endless. But, just when you think about exploding from pent-up resentment, you realize how much you really missed your mom.