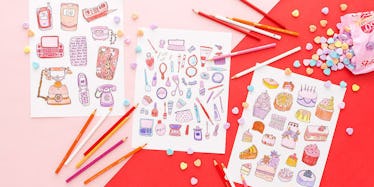 These Adorable Coloring Pages Will Make You Want To Stay In This Valentine's Day
Let's face it, 2016 is the year of the coloring book.
Since Valentine's Day is an annual excuse to unabashedly embrace our ultra girly side, we're totally OK with the trend. We're passing along three downloads of our favorite pages from Brit + Co's "Pattern Play," the first-ever crowdsourced coloring book for grownups. Each page is illustrated by Marisa Kumtong, our resident design genius and girly girl.
Scroll on for the links!
Go ahead, break out the candy hearts and colored pencils.
Who needs a Valentine when you can throw on some PJs and get creative?
This V-day, color your makeup instead of putting it on your face. Download the page here.
Who needs to waste time drunk texting when there are adorable flip phones to color? Download the page here.
Have your cake and color it, too. Download the page here.
We want to see your beautiful coloring pages! Share the finished result with us on Instagram using the hashtag #Iamcreative.