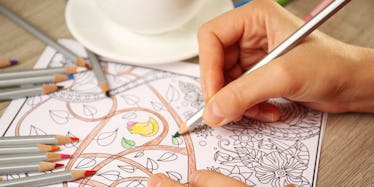 5 Reasons A Coloring Book Is The One Thing You Need To De-Stress
Shutterstock
It's a weekday afternoon, and if I have to spend one more hour sitting in my cube at my corporate job, I'm going to lose it.
So, I shoot a quick SOS text message to best friend, calling for an emergency happy hour.
We've all been there.
She's doing a dry month (f*ck you, January), so we agree on a porch bitching session.
You know the type.
It's the "settle in and get ready to complain about every tiny thing that happened during the day, the week and maybe even the preceding month" type of session.
When she arrives full of best friend wisdom, she plops down into the chair across from me and brings out two packs of colored pencils and two coloring books.
"Back away from the wine bottle," she declares. "This is exactly what you need in your life."
"Okay," I say. "I'm game. I may be the world's worst artist, but give me some lines to color inside of, and I can create a masterpiece."
An hour later, I was a changed woman.
Here are the reasons why:
1. It shifts your focus away from what's stressing you out.
Okay, maybe coloring doesn't require all of your brainpower, but it does require focus.
When creating your coloring masterpiece, your focus is trained on the page, the colors you're using and your plan for finishing it up.
This leaves no time for you to think about the negatives or things stressing you out.
Instead, you find your brain quieting itself as you select the perfect shade.
2. It's DIY art.
Not in on the DIY craze yet?
Now's your chance.
Some of the adult coloring books out there have stunning designs, ones that I would personally hang in my living room.
Not a huge fan of your own art?
I know someone who is: your mom.
After all, she used to hang your "art" on the fridge when you were a kid, right?
So, color your heart out, stick the page in an envelope (old school, I know) and mail it to your mom.
You get to de-stress, she gets a surprise and everyone is happy.
Trust me.
3. One word: Laughter.
Need a laugh?
Just round up your pack of girlfriends and try to color without f*cking something up.
Wait, is that a brown flower? Whoops.
It's healthy to laugh at yourself, and your besties won't mind a few laughs at their expenses, either.
4. It's all about simplicity.
There's nothing wrong with the KISS method (Keep It Simple, Stupid).
Instead of getting all gussied up and heading out to a bar, get in your pjs and color your heart out on the sofa.
You don't even have to leave your apartment.
It's simple.
5. Coloring is cheaper than therapy, and it lasts longer than wine.
Coloring books are much cheaper than weekly visits.
You can rant, rage and process all you like, but an evening full of coloring will leave you feeling as good as a visit to your therapist.
I promise.
They also last a lot longer than wine (even if you're buying the double bottle), and you don't have to deal with an ugly hangover.
A good coloring book is an investment piece.
Yep, give a girl a pretty coloring book, a big pack of pencils and a little bit of time, and you may find she has completely changed.
When I walked away from that first porch coloring date, I felt fancy-free.
I had colored away my anxiety, and I had colored away the troubles of the day.
It felt much better than complaining, and it didn't come with a hangover.
What's not to love about that?