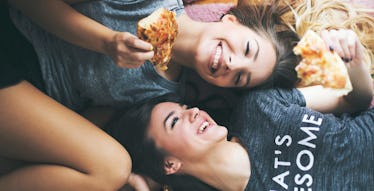 Chic In The Middle East: This Street Style Blog From Iran Proves Just How Fashionable The Women There Are
Stocksy
It's rare that street style blogs are noted for both their fashion sense and political implications, but The Tehran Times, a tumblr being published out of Iran by site founder Araz Fazaeli, has gained serious traction (just look here, here and here) as an insight into both Middle Eastern women's self-expression and the social policies of this typically secretive country.
In what he dubs the "first street style blog of Iran," Fazaeli has succeeded in making Tehran look more like scenes from Scott Schuman's "The Sartorialist" than George Orwell's "1984."
In the photos, women are seen walking the streets wearing Hermes, Chanel and Ferragamo, proving that not all Iranians have denounced the so-called evils of Western materialism.
As Rachel Zoe would say, it's "beyond may-jor," and not just because we confused the pics with potential scenes from the upcoming New York Fashion Week.
Women are determining what to wear and how to convey their personalities through style, but they still face obvious restrictions — in the photos, women are still completely covered, forbidden from showing "immodest" body parts, like their shoulders or knees.
Although these women are still limited by their society's conservative conventions, a colorful caftan certainly beats a dreary, dark-colored chador.
Fazaeli, who studied fashion overseas before deciding to start The Tehran Times, said that women are learning to defy these canons and claim their stake in creative ways through their clothing choices.
Although it's wonderful to see women assert their ability to determine their own public presence, it must be remembered that The Tehran Times is a blog of privilege.
Many Iranian women — living in Tehran and the less metropolitan areas — certainly don't have the means to afford vintage Chanel, or even the latest Zara trend.
Despite Iranian President Hassan Rouhani's relaxed stance on the dress code (and no, Netanyahu, he wasn't talking about sheep's clothing), there are some women who are forced by society's pressures to continue to shirk from the public sphere, revealing very little of themselves.
And let's not forget the women who are empowered, but still elect to comply with the regulated dress code. A chador style blog is one I'd really like to see.
Photos Courtesy: Tumblr