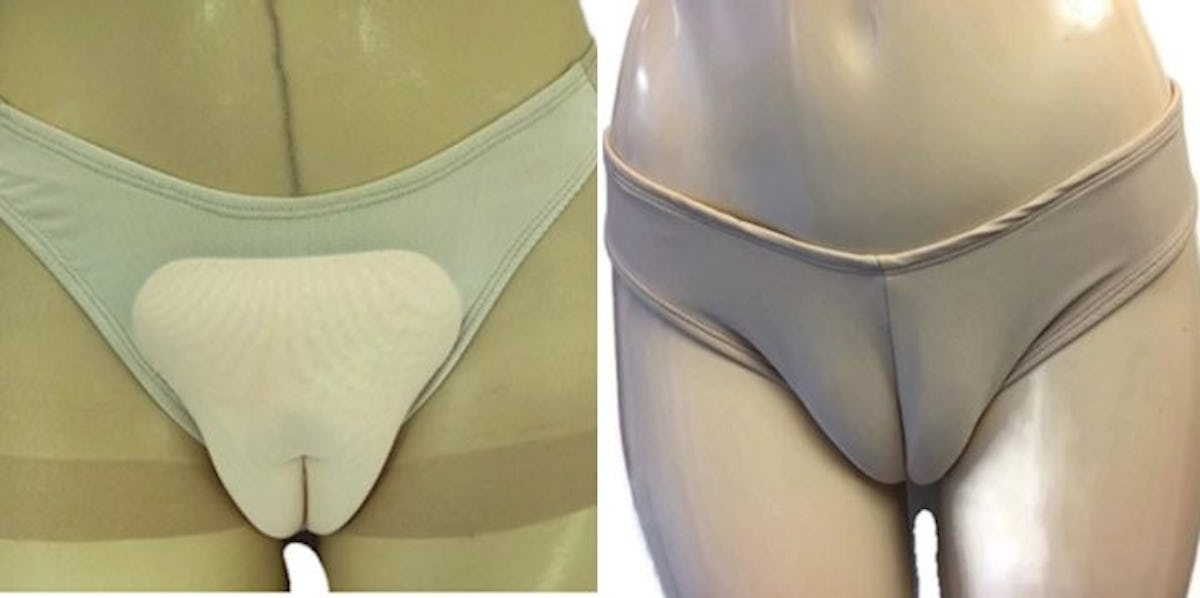 This Underwear Literally Gives You A Camel Toe On Purpose And We're So Confused
Amazon
So, camel toe-simulating underwear is suddenly IN, and it looks SO bizarre.
Traditionally, a "camel toe," which occurs when a ladies' underwear is, um, too tight, causing the shape of a camel toe to form in her crotch area, is something women have avoided at all costs.
But now, this camel toe underwear fad is gaining popularity in Asia and the UK.
And while I don't like to tell people what does and does not look good when it comes to fashion, even I can admit this latest trend is, for lack of a better term, confusing AF.
First, camel toes are uncomfortable. Trust me. Second, why would anyone want their vagina to look like a literal camel's toe?
Georgina, a model from Norwich who tried on a pair, told MailOnline,
They feel like normal knickers, they're comfortable and cottony. You don't really notice that's there, although other people will. With tight leggings it would be pretty noticeable.
I DON'T KNOW WHAT IS HAPPENING.
Georgina also added that she doesn't feel like people will be too shocked by the site of these beauties. "It's not as noticeable," she said. "They're just large knickers like you would wear tummy tuck pants, like a strong Lycra."
Even then, Georgina's not dying to get herself a pair: "I don't think they're for me personally, but to each their own."
According to product's description, this underwear promises to "lift and separate" — two things I would never want for my vagina. It also offers the added bonus of a slimming effect for your tummy, as it's made out of traditional cotton lycra with an added silicone "bump."
A tight stomach AND a massive camel toe? Sign me — I mean, someone else up!
But then again, what do I know? I'm not a fashion expert, and I CAN'T STRESS THAT ENOUGH.
MailOnline reports this camel toe trend is suspected to be linked to the increasing popularity of vaginal surgery, through which women are looking to obtain what experts call "designer vaginas." According to the NHS, procedures like this have increased dramatically in recent years.
And why the sudden urge for a customized vagina? Well, experts believe it COULD have something to do with porn making women self-conscious of their vaginas IRL.
Of course, such a surgery is not only pricey. It's also PERMANENT and comes with a lengthy recovery time and potentially nasty side effects.
That being said, purchasing a synthetic camel toe is much cheaper and, fortunately, reversible on the chance this trend ends up just being a passing fad.
There are reports that the fad is also being adopted by trans women, which, to me, is the only good reason there is for wearing these underwear. And if this trend empowers them, then I'm all for it.
But I think I'll pass on this fashion trend and leave it to the bolder, braver women out there.
Citations: Is this the most bizarre underwear ever? As CAMEL TOE knickers hit the UK, a model tries out the very quirky pants for women who want to achieve a unique look down below Read more: http://www.dailymail.co.uk/femail/article-4376456/Are-camel-toe-knickers-bizarre-underwear-trend.html#ixzz4dIhB8Jz3 Follow us: @MailOnline on Twitter | DailyMail on Facebook (MailOnline)