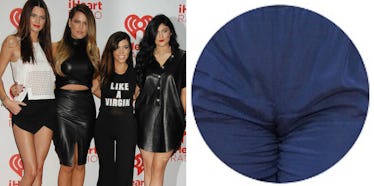 Kourtney Kardashian Wants You To Guess Which Sister This Camel Toe Belongs To
Shutterstock/ Kourtney Kardashian
You can spend all day complaining about the ubiquity of the Kardashians, but how closely are you really paying attention?
A new quiz created by Khloé Kardashian and shared by sister Kourtney Kardashian via her app tests fans' knowledge of the Kardashian/Jenner sisters' anatomy.
The quiz, which is equal parts shameless and self-aware, is available to view via Kourt's website, but curious minds looking for solid answers have to download her paid app for the results.
The sisters kicked off the quiz with some glistening cleav.
My Professional Opinion (MPO):
A. Kim B. Khloé C. Kendall
Then they asked followers to make a call on their moneymakers.
MPO:
A. Khloé B. Kendall C. Kylie
Next up? Mouth stuff.
MPO:
A. Kourtney B. Kendall C. Kylie
Around the halfway point, they threw in an easy one.
MPO:
A. Kendall B. Kim C. Kourtney
By round five, they made it damn near impossible to score perfectly on this thing.
MPO:
A. Kendall B. Khloé C. Kim
The sixth and final round was a lesson in H to T Kardashian/Jenner devotion.
MPO:
A. Kendall B. Kendall C. Khloé
Just realizing you wasted years of your life on these gals but desperate to know the truth? Check out the answers on Kourt's app!
Citations: Quiz: Guess The Kardashian Siste (Kourtney Kardashian)